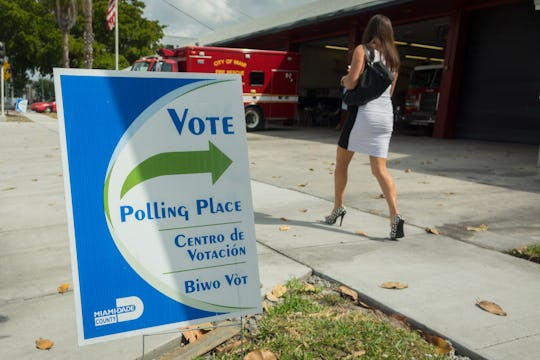 Angel Valentin/Getty Images News/Getty Images
Which States Vote On March 15? These 6 Contests Might Determine Trump's Trajectory
March is a huge month in the 2016 primary season. On Super Tuesday (March 1), about a dozen states held the first major slate of primary contests. Now, just two weeks later, six more contests offer the next big chance for presidential contenders to clinch their party's nomination. If March 1 is Super Tuesday, then March 15 is definitely Mega Tuesday, since voters will award more than 1,000 delegates between the two parties. And which states vote on March 15? The races in five states and one U.S. territory could basically determine the outcome of the primaries.
Voters in Florida, North Carolina, Ohio, Illinois, Missouri, and the Northern Mariana Islands head to the polls on March 15, in contests that will award 1,058 pledged delegates between the Republican and Democratic contenders, according to NPR. Adding in the unpledged delegates (or Superdelegates) at stake between the contests, and the final tally rises to 1,160.
Why is March 15 such a huge deal? Well, it's a big deal on the primary calendar because it marks the halfway point in the nomination race. By the end of the day, 49.9 percent of pledged delegates will have been allocated on the Democratic side and 61 percent will have been decided on the Republican side, according to Ballotpedia.
But there's another reason why everyone will be watching those six contests. While tight races and complicated delegate math mean that no one from either side is likely to earn enough votes to end the race on Mega Tuesday, the March 15 races offer the GOP candidates the last big chance at an upset before the convention.
Billionaire Donald Trump has already established a clear lead in the primary race. Trump amassed 470 delegates before Mega Tuesday, compared to 370 for Texas Sen. Ted Cruz, 163 for Florida Sen. Marco Rubio, and 63 for former Ohio Gov. John Kasich, according to the Boston Globe. The Associated Press reported that those figures gave Trump a total of 46 percent of the delegates awarded so far, but depending on Mega Tuesday results, he could have to claim as much as 62 percent of the delegates in the upcoming races in order to win the nomination. These tweets posted by NPR politics editor Domenico Montanaro outline the road ahead for the GOP candidates:
So, the stakes really couldn't be any higher for the GOP candidates. Illinois, North Carolina, and Missouri offer hefty delegate prizes, but the winner-take-all contests in Florida (with its 99 GOP delegates) and Ohio (with 66 Republican delegates) will be the ones to watch. GOP contenders Rubio and Kasich will be scrambling victories in their home states as part of a last-ditch GOP effort to block Trump's chances of winning a clear majority ahead of the party convention.
The bottom line: the country still has a very long way to go.