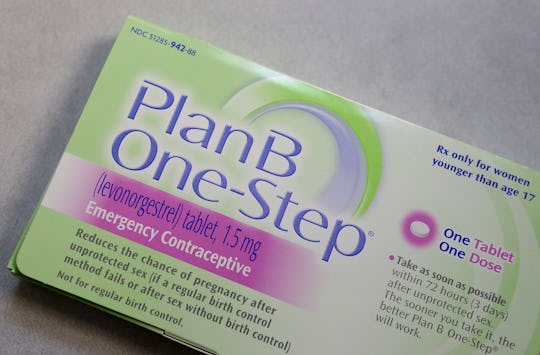 Justin Sullivan/Getty Images News/Getty Images
What Women's Healthcare Will Trumpcare Affect?
The Affordable Care Act has undoubtedly made a massive difference to women's health care since its inception in 2010. Before Obamacare, women frequently had to pay higher premiums on their direct insured policies to cover essentials like maternity and delivery, if their insurer covered those at all. Now that Congressional Republicans are moving forward with their oft-talked about plan to repeal and replace Obamacare, which women's health procedures will be affected by the repeal? While President Trump has spoken of investing in women's health care, the proposed repeal tells a different story.
According to a leaked copy of the proposed repeal plan obtained by Politico, the new plan would eliminate Medicaid expansion and significantly decrease subsidies. Under Obamacare, approximately 56 million women were afforded access to free birth control, improved preventative services like mammograms, and the end of the so-called "gender rating" — the practice of insurance providers charging women higher premiums based on preexisting conditions. What will happen to women's health care services if Obamacare is repealed? Usha Ranji, health and policy expert for the Kaiser Family Foundation, told CBS News:
The ACA set minimum levels of benefits that health plans have to cover and many are highly used, or exclusively used by women. Repeal and replace could take away that minimum level of benefits, which includes really commonly used services like contraception and maternity care.
Not only does Obamacare provide free birth control for women, it also provides all of these services for free, according to Obamacare Face Sheets:
• Well-woman visits.
• Gestational diabetes screening that helps protect pregnant women from one of the most serious pregnancy-related diseases.
• Domestic and interpersonal violence screening and counseling.
• FDA-approved contraceptive methods, education, and counseling
• Breastfeeding support, supplies, and counseling
• HPV DNA testing, for women 30 or older.
• Sexually transmitted infections counseling for sexually-active women.
• HIV screening and counseling for sexually-active women.
• Mammograms and Colonoscopies (since Sept 2010)
If Obamacare is repealed, every one of these essential services to women's health could be in danger.
Before Obamacare, only 12 percent of insurance plans sold in individual markets offered maternity coverage. If a woman found herself unexpectedly pregnant — which is about half of all pregnancies — according to Obamacare Facts, medical care was often delayed because of costs. Many women also went without basic necessities in order to cover the heavy cost not only of maternity care but also delivering the baby.
According to the National Women's Law Center, the Obamacare repeal could damage the "health and economic security of 7.8 million women, including 5.1 million women of color, who recently gained insurance coverage."
As Republicans push forward with their repeal, it's more important than ever to make your voice heard. Because women's health care has come so far; it can't go back.