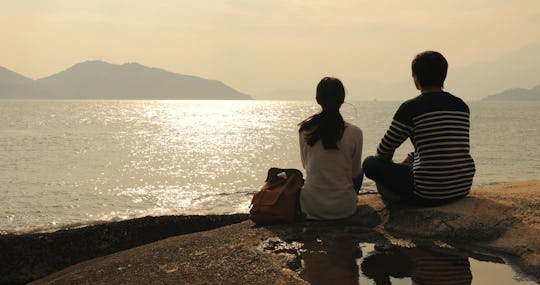 Shutterstock
These Zodiac Signs Have The Deepest Connections, According To Astrologers
For some people, the whole point of dabbling in "the zodiac" is to see if their crush is a good match for them. But if you're curious about which zodiac signs are the most compatible on a deep, soulmate sort of level (of course you are), making the right match isn't as simple as reading your horoscope.
"Compatibility is really far more complicated than this question, because our cosmic blueprint tells such a bigger story," intuitive astrologer Sally Boyd tells Romper. "We are more than our sun sign, we really must consider our ascendant and moon signs as well."
"We can look at first glance for sun sign compatibility/synastry," adds Lumi Pelinku, "The Celestial Astrologer."
"However, taking a deeper look at a couples birth chart, this can shed a lot of light on compatibility." In general, Pelinku explains, sun signs mix well with signs in their own element or signs in complementary elements; for example: water and water; fire and air; water and earth.
As far as the "deepest connection" romantically among the signs, Pelinku says that Scorpio and Pisces is known as "the combination that exudes a deep and emotional connection in love. These two are water signs, and this elemental fusion can be compelling, yet complex."
"The fixed nature of Scorpio appreciates Pisces' mutable nature in going with the flow," Pelinku adds. "Initially, when the relationship is established, these two mesh their personalities, and in fact reflect back what the other is lacking. All in all, a passionate and a cathartic match."
Maybe a true friendship is what you're trying to find. Virgos and Geminis are a great match because they both share a love of mental stimulation, according to Pelinku: "The flow in banter can be very flirtatious and challenging. Which these Mercury-ruled natives appreciate! These two geniuses would be a magnetic and fun-filled duo if in a relationship."
If none of these combos involve your personal sign, not to worry. As Pelinku says, our birth charts are just "a means of understanding each other."
"The synastry between two people will help you honor and respect each other's personality and needs. Overall, astrology is a tool that can coach you to achieve relationship success." (Synastry = "the art of relationship astrology," according to Cafe Astrology.)
The following matches are typically pretty compatible, according to the experts.