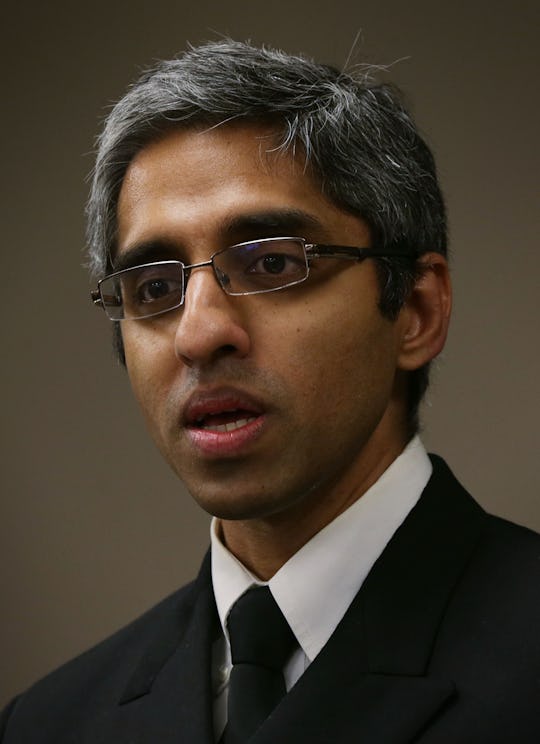 Alex Wong/Getty Images News/Getty Images
Surgeon General Asked To Resign By White House
Surgeon General Dr. Vivek Murthy was appointed by President Obama in 2014. He has been a staunch supporter of Obamacare and spoken publicly about the need for gun control. And now, the White House has asked the Surgeon General to resign. Despite the fact that he has not yet served his full four-year term (Murthy was hired by President Obama in Dec. 2014).
According to Department of Health and Human Services spokeswoman Alleigh Marré, Dr. Murthy was asked to resign after helping the Trump administration's transition. She noted that Murthy aided with a "smooth transition" into the White House, and noted that Department of Health and Human Services "Secretary [Tom] Price thanks him for his dedicated service." Murthy has been at loggerheads with the Republican party on a few key issues in the past; in fact, the Senate blocked his initial 2013 nomination for more than a year based in part on his history of gun control advocacy. At the time, Murthy signed a letter from Doctors for America, a group which he co-founded in 2009, to promote gun control awareness in the wake of the Sandy Hook massacre. The National Rifle Association didn't love it. And it looks like the NRA has finally gotten their way.
During his two-and-a-half years as Surgeon General, the 39-year-old doctor from Massachusetts has made some great strides. He was a staunch supporter of Obamacare, and his office recently penned a fact-based, clear report with realistic solutions for ways to fight the recent opioid epidemic (and yet was not asked by President Trump to join the opioid commission). And he called attention to the terrifying 900 percent increase in cigarette use by high school students from 2011 to 2015. In short; he was good at his job.
For his part, Murthy has not made any sort of public statement about the "why" of his departure from the position as the country's top doctor. He wrote in a Facebook post that serving as Surgeon General was "the privilege of a lifetime."
For the grandson of a poor farmer from India to be asked by the President to look out for the health of an entire nation was a humbling and uniquely American story.
Murthy also included a list of the top five lessons he has learned in his brief time as Surgeon General. Kindness and love both made the incredibly gracious list.
Murthy's deputy, Rear Adm. Sylvia Adams-Trent, will take over as acting Surgeon General in the interim. Murthy himself will remain as a member of the U.S. Public Health Service Commissioned Corps.
The White House has yet to give any indication of who the NRA (I mean the president) will choose as the next Surgeon General.