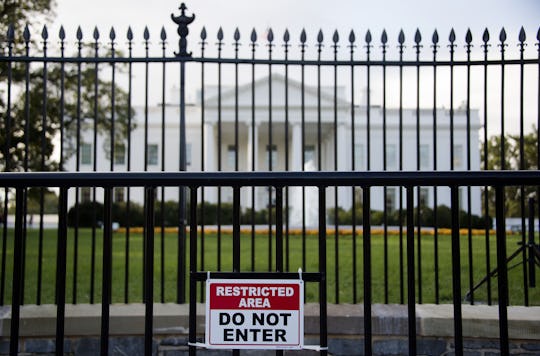 White House On Lockdown After Someone Jumped The Fence, And This Isn't The First Time It's Happened
Thanksgiving got particularly eventful in Washington, D.C., with the White House on lockdown after an unnamed individual jumped the fence. CNN reported that the fence jumper was immediately caught, which was good news seeing as the First Family was inside the White House at the time, celebrating Thanksgiving. The iron fence around the popular attraction and home of the First Family had recently been outfitted with 7-inch steel spikes, meant to deter would-be intruders. Authorities have yet to release the name of the now-detained jumper, although many outlets were quick to note his odd attire: The man was wearing a blue shirt, white pants, cloaked in an American flag and was carrying an envelope.
With the recent and horrific terrorist attacks in Paris, coupled with recent threats made to Washington D.C. and New York City by ISIS, security has been heightened in and around The White House. Perhaps the additional security contributed to the jumper's quick capture, as the Secret Service has had issues catching and detaining fence jumpers in a timely manner in the past.
(Of course this isn't the first time someone has jumped the fence at the White House.)
In fact, in 2014 the Secret Service disclosed that there have been over 40 White House security breaches. Thankfully, on Thursday, they were on point: Officers were quick to draw their weapons to subdue the jumper, and K-9 united were deployed to ensure his immediate capture. No one, including the foiled intruder, was hurt and the First Family could continue to safely enjoy Turkey Day.
September 2014
A 42-year-old veteran jumped the White House fence and made it all the way to the East Room of the White House before he was eventually subdued. Secret Service came under intense scrutiny after the incident, with their training, protocols, and general abilities being doubted during a hearing by the House Oversight Committee.
August 2011
23-year-old Dominic Adesanya jumped the fence and managed to punch and punch two Secret Service dogs (WHO PUNCHES A DOG?!), before finally being subdued by Secret Service officers.
June 26, 2013
Activist and CODEPINK co-founder Diane Wilson jumped the White House fence in protest of claims of torture at Guantanamo Bay. Prior to her jump and subsequent detention, Wilson had been on a 57-day hunger strike in solidarity with Guantanamo prisoners.
September 11th, 2014
A man wearing a Pokemon hat jumped the fence, wandering around as if he was simply enjoying a brisk walk through a harmless park. LOL. Cool story, guy.
Image: Jim Watson/Getty Images