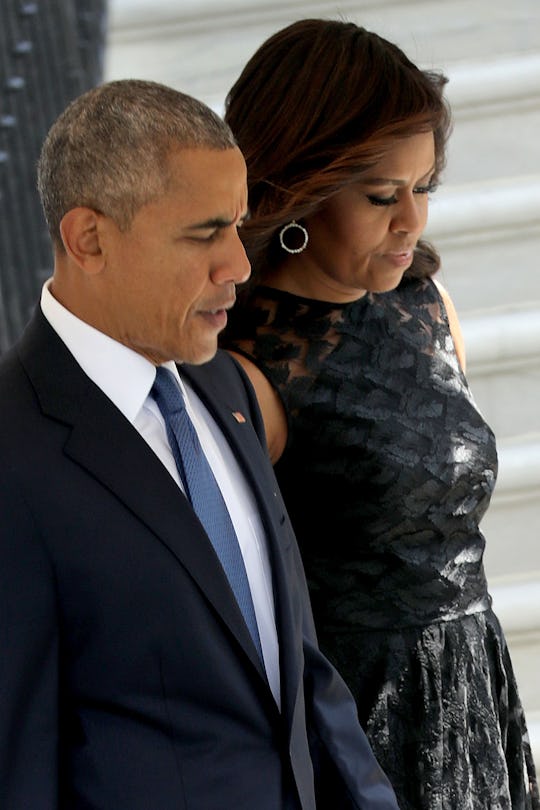 Chip Somodevilla/Getty Images News/Getty Images
White House Responds To France Crash & Shows Support For The People Of Nice
At least 73 people were killed on Thursday evening in the sleepy little seaside town of Nice in the south of France. While revelers left a fireworks show in celebration of Bastille Day, a national holiday of civic pride in France, a white delivery truck rammed the crowd of people as thousands fled in terror. The White House has responded to the France crash, condemning the attackers and showing support for the victims.
Update: French President Francois Hollande announced Friday that the death toll had risen to 84 and at least 50 people were in critical condition "between life and death," according to ABC News.
Once he was briefed about the situation, President Obama was quick to release an official statement through the White House:
On behalf of the American people, I condemn in the strongest terms what appears to be a horrific terrorist attack in Nice, France, which killed and wounded dozens of innocent civilians," Obama said in a statement. "Our thoughts and prayers are with the families and other loved ones of those killed, and we wish a full recovery for the many wounded. I have directed my team to be in touch with French officials, and we have offered any assistance that they may need to investigate this attack and bring those responsible to justice. We stand in solidarity and partnership with France, our oldest ally, as they respond to and recover from this attack.
While there was understandable confusion in the immediate aftermath of the crash, local law enforcement officials have since claimed that the incident was a terrorist attack, and that 77 lives had been claimed, according to a ranking politician in the Alpes-Maritimes department (which includes Nice). The same official reported that the truck drove nearly 2 kilometers (over one mile) through the crowd, according to the Associated Press. The mayor of Nice, Christian Estrosi, also said that the truck was full of ammunition and grenades, as reported by the Associated Press.
This attack comes almost eight months to the day after the November Paris attacks of 2015, when multiple suicide bombers and gunmen attacked city cafes, restaurants, and a music venue, killing 130 people. ISIS militants took responsibility for those attacks. The White House was quick to show its support for France, the country's "oldest ally," after the Paris attacks as well.
Once again we've seen an outrageous attempt to terrorize innocent civilians. This is an attack not just on Paris, it's an attack not just on the people of France, but this is an attack on all of humanity and the universal values that we share.