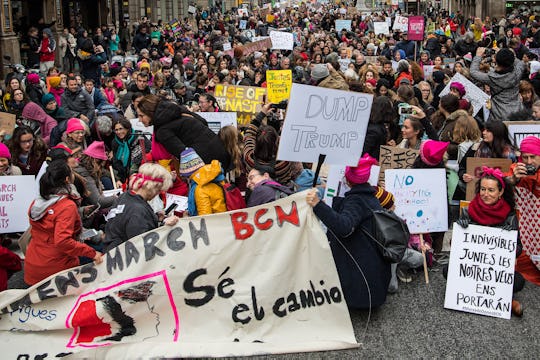 David Ramos/Getty Images News/Getty Images
White House Site No Longer Available In Spanish
Since the inauguration on Friday, President Trump and his team have been busy with press briefings, signing executive orders, and meeting with government agencies. But there's one basic thing they still haven't taken care of. The White House site. Just after Trump was sworn in, Spanish news organizations noticed that the White House site was no longer in Spanish. over the weekend, those organizations looked into when the Spanish translation would return, but there hasn't been any official word just yet, according to Fusion.
During a press briefing on Monday, Press Secretary Sean Spicer said that the team was working on it. "We are continuing to build out the website both in the issue areas and in that area. But we've got the IT folks working overtime to continue to get all of that up to speed," Spicer said when asked about the translation." He added, "Trust me, it's going to take a little bit more time, but we're working piece by piece to get that done."
But that's sort of the rub, since Spicer has been having a little trouble with truth-telling since officially taking on the job this weekend. On Saturday, the media called him out for exaggerating the truth about inauguration crowds and he has since doubled down on those claims, clarifying that he was referring to the global audience when he buffed up the numbers.
In addition to the website, the White House has also not tweeted from the official Spanish Twitter handle, @LaCasaBlanca, which was used during the Obama administration to ensure that Spanish-speaking Americans were getting information via social media. Trump has been tweeting all weekend from his personal account, and the new White House handle has also been active. But there have been no tweets in Spanish.
It's entirely possible that this is just a glitch and that the team has been busy prioritizing the site's pages. On Friday morning, pages that used to have LGBTQ policy, information about the Affordable Care Act, and climate change were also removed. In their place, issue pages about supporting law enforcement and various "America First" plans went up in their place. Again, there is every reason to hope that those other pages will come back — at least with official stances on where the administration stands on those issues. It's possible they just didn't have a Spanish translation of those issue pages yet, because the page does exist. For a while there was an error message, but now the url directs to an existing page. There's just nothing there.
But it's also entirely possible that Trump doesn't want the site to be offered in a different language. He ran on building a wall on the Mexican border and said that Mexicans are drug dealers, rapists, and "bad hombres." He also criticized Florida Gov. Jeb Bush for speaking Spanish during a primary debate. Trump later told CNN's Dana Bash, "We have a country where to assimilate, you have to speak English. And I think that where he was and the way it came out didn't sound right to me."
He added, "We have to have assimilation to have a country. We have to have assimilation. I'm not the first one to say this, Dana. We have had many people over the years for many, many years saying the same thing. This is a country where we speak English, not Spanish."
If he meant what he said, it's likely that he believes he's giving non-English speaking residents a crash course in the official language. But if they're just looking for a translator, there are plenty of people who would probably love the all-American job.