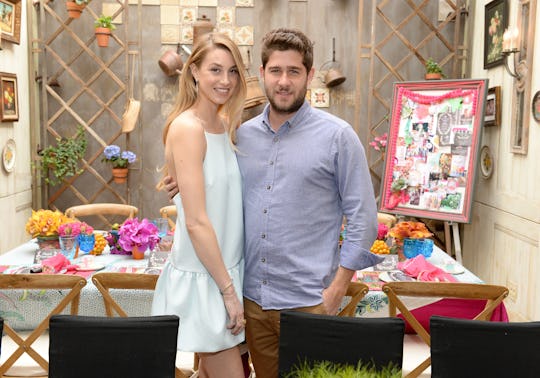 Michael Kovac/Getty Images Entertainment/Getty Images
Whitney Port Got Honest About How Having A Baby Has Changed Her Marriage & It's So Relatable
After I had my first baby, the world shrank down to the size of just him and I. There was just nothing else... and when I gave birth to my second son, the world grew just enough to include him, but that was it. As you can imagine, this was not easy for their dad. After being the center of my focus, he was subconsciously demoted. And I guess this is a thing that happens when you have kids; your marriage changes. When Whitney Port talked about how marriage changes after kids, I feel like she was speaking for so many parents who feel both frustrated and confused.
Port has been married to husband Tim Rosenman since November 2015, and the couple welcomed their little boy Sonny nine months ago. The Hills alum spent most of her pregnancy keeping it super, super real about her experience growing a human in her video series I Love My Baby, But I Hate My Pregnancy. She has continued to share her conflicted emotions about motherhood at every turn, with Rosenman supporting her (and filming her) along the way, talking about things like her discomfort in her post-baby body and her struggles with breastfeeding. And now, she's turning the lens on the way having a baby has changed her marriage.
Port told Us Weekly that she and her producer husband are struggling to talk about anything non-baby related since Sonny's birth. "I think you just have to put in a little bit more effort to make sure that you're on the same page in life," she told the publication. "It's just about making more effort to be there for each other emotionally and physically."
Kids are well-known mood killers and time suckers. Trying to keep another person not just alive, but happy and well fed and loved is beyond a full-time job. According to a 2009 survey performed by the American Psychological Association, couples report their relationship satisfaction level is sliced in half after the arrival of a baby. Why? As University of New York professor of psychology Matthew Johnson explained to The Conversation:
Parents often become more distant and businesslike with each other as they attend to the details of parenting. Mundane basics like keeping kids fed, bathed and clothed take energy, time and resolve. In the effort to keep the family running smoothly, parents discuss carpool pickups and grocery runs, instead of sharing the latest gossip or their thoughts on presidential elections. Questions about one's day are replaced with questions about whether this diaper looks full.
Port and Rosenman might be struggling with their new normal, but the lifestyle blogger is trying to come up with ways to reconnect with her husband. One of the simplest ways, she says, is to find time to be together when Sonny is sleeping, as she told Us Weekly. "He goes to sleep so early that we're able to have time by ourselves at night to just enjoy and relax," she explained to the publication. "Having those date night moments, I really, really recommend."
It probably helps to be in such an open, communicative relationship as well; Rosenman isn't exactly one to clam up when it comes to discussing the hard topics of parenting either. Back in October, he and Port had a frank discussion about their sex life on her vlog. Port wasn't exactly in the mood for sex and feeling guilty about it, and Rosenman was there to remind her everything was OK. According to People, he said, "Our sex life will get back to where it was when things calm down. I feel like it is, and that's good."
So yes, having a baby is tough on a marriage. But maybe the lesson here is, the toughest part is not being able to have an honest dialogue about what you're feeling. Maybe if people could just say, hey I'm not feeling connected, let's hang out for a bit or something, it might make the transition a little easier.
Check out Romper's new video series, Bearing The Motherload, where disagreeing parents from different sides of an issue sit down with a mediator and talk about how to support (and not judge) each other's parenting perspectives. New episodes air Mondays on Facebook.