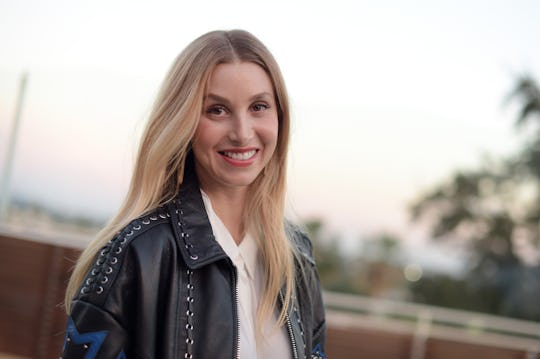 Jason Kempin/Getty Images Entertainment/Getty Images
Whitney Port Is Selling Her Maternity Clothes To Benefit Moms
It's not every day you get to rummage through your favorite celebrity's closet. But, starting Friday, fans of The Hills will get to the chance to snag some items from a former cast member. That's right: New mom Whitney Port will sell her maternity clothes for charity, and here's how you can get them.
According to People, Port has teamed up with thredUP, the largest online thrift shop, to sell her coveted pre-pregnancy outfits, as well as some of her cute maternity items, to clear out her closet and help mothers in need. Starting Friday, fans can shop Port's items, which are priced from $22 to $322 — the cost of her LOVE Binetti ivory checkered jacket. She is also selling some pieces from her own fashion line, Whitney Eve.
The partnership is part of thredUP's "Shop Her Closet" series, where celebrity women sell their threads to raise money for charity. Sales from Port's closet will go towards Every Mother Counts, a global nonprofit fighting for better maternal health care.
The new mom said she partnered with thredUp to make room "for clothes that fit my changing body and new lifestyle." She continued in a statement, according to People,
I'm excited that the proceeds from this sale will benefit Every Mother Counts, and thredUP.com will match every dollar raised.
In my opinion, Port couldn't have picked a better charity to support. Although maternal mortality rates have declined in most countries in recent years, the United States is seeing a worrying spike in numbers, according to study published last year in Obstetrics & Gynecology. The World Bank shows that the number of U.S. maternal mortality cases rose from 11 per 100,000 live births in 1996 to 15 in 2009 and has stayed steady at 14 cases per 100,000 births since then.
But maternal mortality rates differ significantly among populations. Black women are four times more likely to die from pregnancy- and childbirth-related causes than white women or women of other races, according to the U.S. Centers for Disease Control and Prevention. Research shows the disparity in rates is driven mainly by discrimination in health care; while all women face barriers in prenatal care, black women in particular are more likely to be denied proper insurance coverage or access to services.
Every Mother Counts works to break through these barriers. The nonprofit organization supports programs, provides education, and distributes necessary medical supplies in order to improve essential maternity care worldwide. With 100 percent of proceeds from Port's closet going to Every Mother Counts, the nonprofit will be able to continue this mission.
In addition to helping other mothers, Port is also clearing out her closet to celebrate her life as a new mom. The fashion designer and former reality TV star is also gave birth to her son, Sonny, back in July, according to E! News. Sonny is the first child for Port and husband Tim Rosenman, a TV producer who see married in 2015. She announced the birth on her blog, writing,
We've all heard mothers give the same speech about how life changing the love for your baby is, and it's not like I didn't believe it or anything, but I guess I couldn't actually connect to those exact feelings until the doctor placed Sonny onto my chest. I love him and feel protective over him, but more than anything, I'm just like obsessed.
If you love Port's style, then head over to her closet now. After all, you can snag her gorgeous Elizabeth and James kimono maternity dress for $280 or this elegant A Pea In The Pod maternity blouse for $72. Other items include a simple Madewell striped romper, quirky Diane von Furstenberg Pants, and an adorable Hanna Andersson pajama top. But don't wait too long; you don't want to miss out on these great items and helping mothers in need.