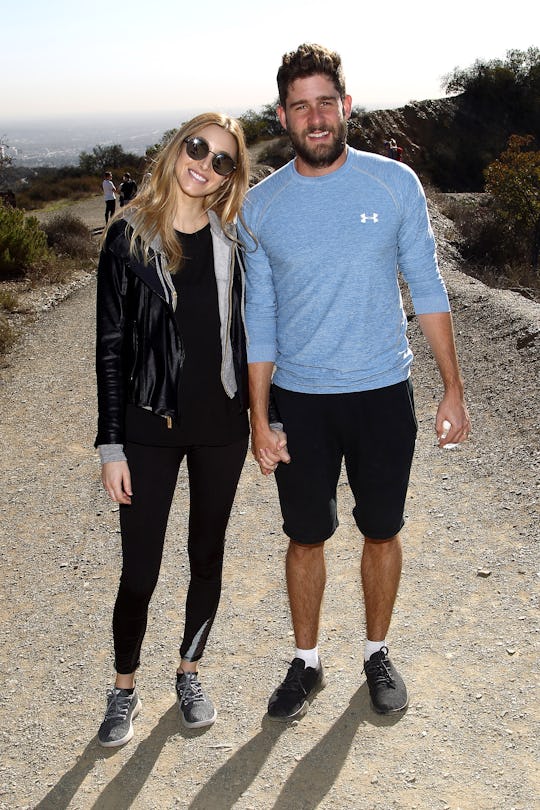 Tommaso Boddi/Getty Images Entertainment/Getty Images
Whitney Port's Worries About Her Sex Life After Giving Birth Are Refreshingly Honest
In my experience as a mom and friend to other moms, I've noticed a few things. There seem to be those moms who, without probably actually meaning to, manage to make you feel like you're getting it all wrong simply because they're getting it right. And then there are those moms who just get you, who are real and honest and vulnerable about the whole motherhood journey. The Hills' Whitney Port is absolutely the latter. In a recent video diary entry on YouTube, Port admitted she was worried about her sex life after giving birth. And moms everywhere were probably like, "yup, me too."
Fashion designer Port has been hosting a weekly YouTube series about her pregnancy journey, "I Love My Baby, But" since the beginning of her pregnancy with her 3-month-old baby boy Sonny, whom she shares with husband Tim Rosenman. In her weekly video diaries, Port has opened up about all things pregnancy and parenting, and her most recent post, "I Love My Baby, But... I Wish My Body Didn't Have To Change" was all about her struggle with postpartum body confidence. As she admitted in the description for Chapter 26 of her series:
I feel a little superficial for caring about the fact that my body was going to change so tremendously from pregnancy and birth. When I first found out I was pregnant, I immediately panicked about not being in control of my body and it got increasingly harder to feel good in my own skin. I constantly had to remind myself that my body was creating something so wonderful, so beyond my comprehension or sensibility.
In the video, Port talks about her almost immediate fear of the changes her body would most certainly go through, and worrying about losing control of her own body. Because, as she pointed out, exercise was one of the few things she felt she had control over (she actually found out she was pregnant moments before hitting a Pilates class).
Port went on to say that she gained 40 pounds during her pregnancy (which is still a perfectly healthy weight gain, according to WebMD) and found herself getting depressed. She said in the video:
Gaining the weight was really hard for me. It did not make me feel good about myself. I didn't really want to get dressed. Putting together outfits for work or events or whatever I had to do ― honestly just everyday stuff ― was a stressful thing for me because I just hated how I looked.
While trying to come to terms with a different body can make intimacy difficult, Port went on to say she was genuinely worried about how sex would feel after giving birth to a whole human:
Having a vaginal delivery changes everything down there, and that's just something that's really not discussed, like what it's actually going to do and that there's a really long recovery afterwards. And it's painful and uncomfortable.
She spoke to her husband, who was behind the camera, about an issue so many women struggle with after giving birth: wondering if their partner still finds them attractive (for the record, Rosenman did not say he found her unattractive).
I was obviously concerned about what that was going to do to our sex life... if it would feel the same, if you would feel the same way about me. I thought a lot about if you were attracted to me and that was hard because I was never insecure about that before.
This is a well-established concern for new moms, who suffer from lack of sleep, physical pain, and a major change in the way they see themselves, according to Dr. Elizabeth Pryor, telling Parents magazine:
The effects of stress and worry that a new mother experiences should not be overlooked. You're probably getting less sleep, possibly feeling a touch of postpartum blues caused by hormonal fluctuations, and grappling with a very different body image than before your pregnancy. You need to be patient with yourself and know that this is a temporary problem.
This is what is so refreshing and endearing about Port; she is willing to make herself vulnerable as a mother and a woman to kickstart some conversations. About postpartum sexuality, about body insecurities, and even about maybe not always feeling as though everything is Instagram perfect. We need more of this.
Watch Romper's new video series, Romper's Doula Diaries:
Check out the entire Romper's Doula Diaries series and other videos on Facebook and the Bustle app across Apple TV, Roku, and Amazon Fire TV.