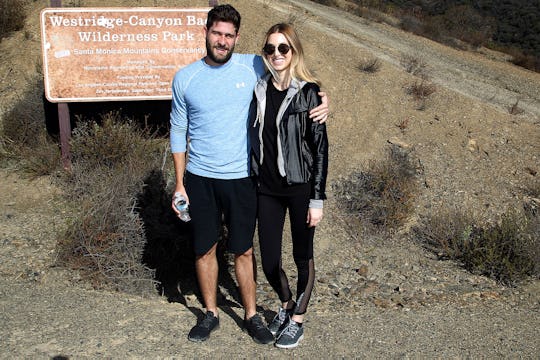 Tommaso Boddi/Getty Images Entertainment/Getty Images
Whitney Port Says She's Not Into Pregnancy Sex
Every pregnancy is different. Some women are all glow-y and full of sunshine and joy, others are counting down the hours until it's over. Unfortunately, there seems to be this stigma out there against pregnant women who don't necessarily love every moment of carrying their child, which is why it's always great to have a celebrity who isn't afraid to open up about her honest, actual feelings concerning pregnancy. When Whitney Port recently admitted sex during pregnancy isn't really her thing, it was an honest moment so many other women can probably relate to.
The former star of The Hills is expecting her first baby with husband Tim Rosenman, and admitted during an interview on The Lady Gang podcast that her body confidence has taken a sharp nosedive during her pregnancy. The 32-year-old blogger said:
It's so not for me! It's not. I feel so uncomfortable with my body that I can't get into the mood. I can't feel sexy.
She went on to admit that her lack of body confidence has kept husband Rosenman from making attempts to have sex:
I think if I was one of those pregnant women that loved it and was confident, then he'd be into it. I think I've turned him off of it because I'm like, "Don't look!"
While many fans appreciated Port's distinctive brand of honesty when it comes to dealing with body insecurity issues (for more of the same, visit her YouTube series, "I Love My Baby But I Hate My Pregnancy"), she has received a surprising amount of backlash for her comments in the interview. Mostly because of her comments directed at her former co-stars from The Hills, Spencer Pratt and Heidi Montag, who are also expecting their first child. When asked about the so-called Hills baby boom (Lauren Conrad is also pregnant), Port said she didn't "really care" that Conrad and Montag were pregnant but that she was "surprised" it took Montag and Pratt so long to have their first baby.
Some media outlets and social media users felt Port was being insensitive (after all, everyone's journey is different) but the hosts of The Lady Gang podcast said her comments were taken out of context. Host Keltie Knight contacted Refinery 29 to note that Port was not intending to be offensive, but she knew Montag had wanted a baby for a long time.
This is ever the problem with honesty, isn't it? People could potentially take offense. Still, Port's honesty about struggling with body image and feeling sexy during pregnancy will most certainly ring true with other moms out there, and it's empowering that she decided to share her thoughts with so many people.