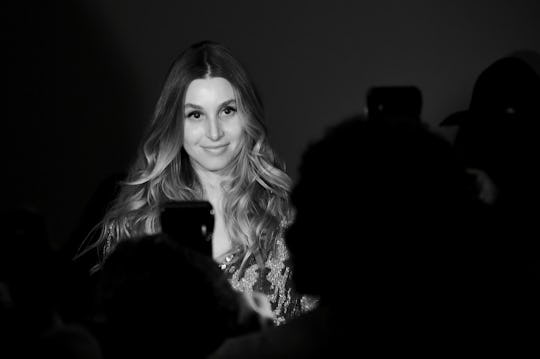 Mike Coppola/Getty Images Entertainment/Getty Images
Why Whitney Port Won't Sugar Coat Pregnancy
One of the primary reasons for Instagram, obviously, is to live vicariously through your favorite celebrities — the breastfeeding-with-glam squad, the NBD beach mansions, the borderline food porn dinners. But not all of them use their accounts to add to the already picture-perfect image they've created of themselves. Many use social media to bring attention to some of the less-than-pretty realities of their life. Take, for example, The Hills alum Whitney Port. Since announcing her pregnancy in February 2017, Port has refused to sugar coat her pregnancy because she believes she owes fellow moms-to-be an honest account of the struggles that come with growing a human life. Of which, mind you, there are many.
"I just wanted to really take advantage of my platform to help people, and also to get support for myself, too, because it helps me just as much as it helps other people," Port tells Romper during a press event to promote her partnership with Dawn dish soap. Part of her platform includes an original Vlog series aptly titled, "I Love My Baby, But I Hate My Pregnancy." The series, which Port and her husband Tim Rosenman launched about three months into her pregnancy, documents the more difficult aspects of the process.
Obviously I feel horrible for the women who aren't able to get pregnant, but it doesn't make it any easier for me.
"The first day we filmed was a morning when I was just feeling really gross," Port says of the project, but Rosenman encouraged her. "He was like, 'You know what, let's get you on tape.' He really pushed me to do it even when I really didn't want to do it, and it's been awesome. Because if I'm feeling this way, there have to be tons of people feeling this way, too."
In the weekly video segments, the majority of which feature Port lying in a bed sans makeup, she has opened up about a number of topics including her battle with morning sickness, constantly crying through her second trimester, and the pressure to be excited about pregnancy in the first place.
"You feel guilty saying 'I hate pregnancy,' because you feel so lucky to have gotten pregnant," Port says. "It is such a blessing and everyone's always immediately like, 'Congratulations,' because it is such inherent good news."
Port acknowledges that using the word "hate" in her Vlog's title opens her up to judgement. In fact, she included a disclaimer in the first episode that read:
Please do not get alarmed by the title! I know "hate" is a strong word but I think in that very moment, that was how I was feeling and so we stuck with it! As the pregnancy progresses and my symptoms subside, I hope that's not how I will feel anymore! I already love our baby to pieces but feeling yucky all the time is a "hate-able" thing!
And viewers have certainly been forthcoming with their criticism. "There are some people that will write and say, 'You're lucky to be able to have gotten pregnant'," Port tells Romper, but she decided to err on the side of honesty. "Obviously I feel horrible for the women who aren't able to get pregnant, but it doesn't make it any easier for me."
There was a point, albeit a brief one, when it looked like Port might not be able to get pregnant. In a blog post for People, Port wrote about a pre-pregnancy infection that could have affected her ability to conceive. In the post, Port recalled being diagnosed with a post-honeymoon bacterial pelvic infection. She wrote:
The infection cleared up, but my doctor seemed concerned that this could have an effect on me getting pregnant down the road. I don't know about you guys, but any slightly scary news from a doctor can send me into a spiral.
Her concerns were valid. Luckily, from what she's shared with viewers, Port has had a healthy pregnancy so far. Now she's nearing the home stretch, and although Port hasn't revealed her due date, she knows it's time to start slowing down, at least temporarily. Fortunately, that task is proving to be easier than she thought.
"I'm always so motivated, and I always want to be busy, but I'm just getting so flustered over little things," she says. "Right now though, I'm all about making my life easier. I'm taking a little bit more time for me and knowing that I can't function the way that I used to."
It's that type of self-realization that proves Port has no problem with honesty, whether it's with herself or with fans. And she hopes to pass that same type of upfront attitude onto her future child.
"I have a best friend who's kind of, like, scared to tell her parents anything, and I just don't want to be that mom," Port says. "I need them to be able to really always be honest with me."
If she has the same candor with her child as she does with millions of strangers, that won't be a problem.