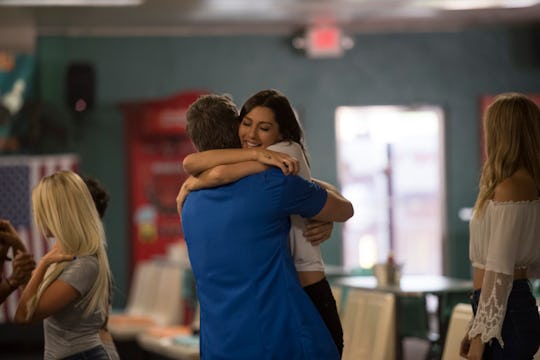 Paul Hebert/ABC
Arie's Final Two 'Bachelor' Contestants Have Finally Been Revealed
Well, it's that time again, folks. The time for 2018's Bachelor to pick his top two favorite women, and decide which of them he's going to propose to. So who are Arie's final two on The Bachelor? He had to say a difficult goodbye to one woman, but to be honest he had a stronger relationship with the other two. Honestly, I might be sadder than Arie is at this moment to watch this particular woman leave the show.
From almost the very beginning, Kendall has been my favorite contestant on The Bachelor. She is, to use Arie's word, "quirky," meaning she's unafraid to like what she likes and be herself. Yes, she's totally into taxidermy but she doesn't think it's weird and she's happy with it. She was also kind and intelligent and wonderfully empathetic toward the other women even when they weren't empathetic toward her. She and Arie had a slow burning courtship — at least in the context of The Bachelor — and though they gained a lot of ground in the second half of the season, it was obvious to everyone that Arie was just feeling a lot closer to Becca K. and Lauren B. Even Kendall admitted that they were ready to accept a proposal far earlier than she was.
So it was no surprise when Arie ended up selecting Becca K. and Lauren B. as his final two contestants, though I do hope to see Kendall again, perhaps on Bachelor in Paradise. Becca K. was a front-runner on Arie's season from the very beginning. She got his first one-on-one date, in which she opened up about her dad's death and her past relationship. Lauren was something of an unknown entity until later in the season, though she quickly pulled ahead as one of the women Arie was most interested in spending time with, despite the fact that she had a hard time opening up and being honest with him about her feelings.
Though most of Bachelor Nation could have predicted this final two by the time the fantasy suite dates episode aired, there was one twist that threatened to derail everyone's plans. Becca's ex-boyfriend Ross, the one who helped her through her dad's death, showed up at Arie's door to reclaim the "love of his life." On the show he said he knew nothing about the show, and didn't even know that Becca was on it until the week previously. All he knew was that Arie wasn't going to steal "his" proposal, and he was going to win Becca back.
Ultimately though, Becca decided not to take back her ex-boyfriend and stick it out with Arie. Arie, who said he was "pissed" and upset about Ross's arrival, was obviously thrilled that he didn't have to let go of Becca, who might be an actual angel. Arie had previously called the relationship the "safest" and "most comfortable" out of all the relationships he had during the show. Meanwhile, on Arie's date with Lauren, he was throwing out "I love you's" left and right like it was going out of style. While he obviously felt something for Kendall, he hadn't quite gotten to "I love you" station.
So during the final rose ceremony before the finale, I think everyone (including Kendall) knew how it was going to shake out. Arie took her aside as he had done the previous week, and gently explained that he simply didn't feel that their relationship had reached the same level as his other relationships. While Kendall was clearly crushed, something tells me the man of her dreams is just around the corner.
Check out Romper's new video series, Romper's Doula Diaries:
Watch full episodes of Romper's Doula Diaries on Facebook Watch.