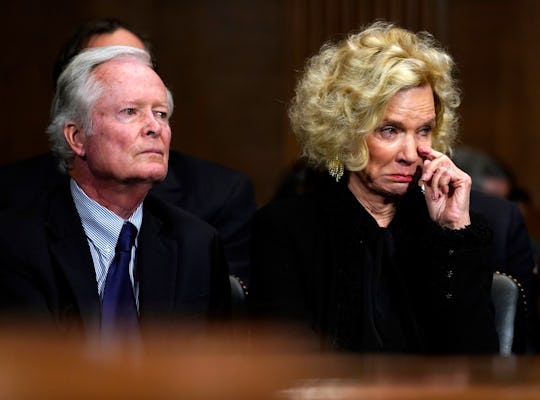 Pool/Getty Images News/Getty Images
Here's Everything You Need To Know About Brett Kavanaugh's Parents
Brett Kavanaugh's name continues to dominate headlines — the FBI investigation, the sexual assault allegations, the SNL skits, and on and on. The future of the Supreme Court is on the line as the nation waits for the next chapter in this seemingly unending saga. And while a lot is known about Kavanaugh as a person, thanks to last week's hours of live testimony, what's known about his family? Who are Brett Kavanaugh's parents, the people who raised him into the person he is today?
The SCOTUS nominee's parents are Everett Edward Kavanaugh Jr. and Martha Gamble Kavanaugh, according to Heavy. The two sat faithfully behind him in silent support during his testimony and the somber look on their faces can only be described as heartbroken.
His mother, Martha, was a school teacher, who went on to graduate from American University with a law degree, and eventually became a circuit judge for the state of Maryland, according to CNN.
Kavanaugh referred to his mother as a trailblazer in his White House nomination acceptance speech, according to ABC News. He said:
My mom was a trailblazer. When I was 10, she went to law school and became a prosecutor. My introduction to law came at our dinner table when she practiced her closing arguments. Her trademark line was: "Use your common sense. What rings true? What rings false?" That's good advice for a juror and for a son. One of the few women prosecutors at that time, she overcame barriers and became a trial judge. The president introduced me tonight as Judge Kavanaugh. But to me, that title will always belong to my mom.
Martha was no stranger to the Ford name. Long before Christine Blasey Ford accused Kavanaugh of sexual assault, the SCOTUS nominee's mother presided over a foreclosure case against her parents that she later dismissed, according to Fox News. So, when people started to suspect that the Ford allegations were brought forward as payback for the ruling, the theory was quickly debunked given the favorable outcome that benefited the Fords, according to The Heavy.
Kavanaugh's father, Everett, also received his law degree from American University and was an established lobbyist for the Cosmetic, Toiletry, and Fragrance Association. He later became the president and CEO of the trade association, CNN reported.
During Kavanaugh's now infamous Senate testimony, he referred to his handwritten notes on a decades-old, dog-eared personal calendar to counter Ford's allegations of sexual assault. He choked up, holding back tears, as he talked about how his father started saving detailed calendars during the 70s as keepsakes. This, as he disclosed during his testimony, inspired Kavanaugh to start saving his own detailed calendars, as a documentation of life, according to CNN.
"Why did I keep calendars? My dad started keeping detailed calendars of his life in 1978. In 9th grade, in 1980, I started keeping calendars of my own," Kavanaugh said during his live testimony, according to ABC News.
Given Kavanaugh's emotional reaction, many people assumed that his father was no longer alive. But as John Oliver, host of Last Week Tonight, pointed out this past Sunday in a poignant segment, both his parents attended the testimony hearings in their entirety.
Kavanaugh's time at Yale was brought up numerous times during his testimony. His grandfather and his father were both graduates, according to The Intercept, making Kavanaugh a legacy.
Kavanaugh is an only child, according to HuffPost, and was afforded many opportunities as a young adult thanks to his affluent upbringing in the suburbs of Bethseda, Maryland.
His parents sent him to Georgetown Preparatory School, an elite Maryland High School that's turned out many high powered political alumni, according to Heavy. Coincidentally, also where Ford claims the alleged sexual assault took place, according to the New York Post.
Kavanaugh continues to staunchly deny all allegations against him, according to NPR, and in his most recently updated statement, he said:
This is a completely false allegation. I have never done anything like what the accuser describes — to her or to anyone. Because this never happened, I had no idea who was making this accusation until she identified herself yesterday. I am willing to talk to the Senate Judiciary Committee in any way the committee deems appropriate to refute this false allegation, from 36 years ago, and defend my integrity.
In the coming days, the FBI investigation into the SCOTUS nominee will undoubtedly dig further into Kavanaugh's upbringing and those closest to him — and perhaps that will include a closer look into his parents as well.