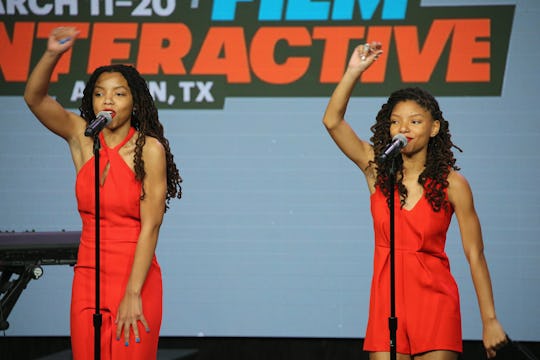 Neilson Barnard/Getty Images Entertainment/Getty Images
Who Are Chloe & Halle? Beyonce's New Proteges Just Dropped Their First Single
Beyoncé is all about feminism. It's become an integral part of her personal entertainment brand and touted in lyrics of her now-iconic hits like "Run the World (Girls)" and "Flawless", which samples a TEDx Talk by Chimamanda Ngozi Adichie, a Nigerian author and outspoken women's rights supporter who defines a feminist as "a person who believes in the social, political, and economic equality of the sexes." Now, by using her considerable clout and prestige to support young women in the music industry, Queen Bey is walking the walk of feminism too. In a move that is undoubtedly expected to prove a lucrative business venture as well, Beyoncé has signed a group of emerging female artists to her label, Parkwood Entertainment. Among them are Chloe and Halle Bailey, teenage sisters who just dropped their first single.
Known professionally as Chloe x Halle, the girls caught Beyoncé's attention with a 2013 cover of "Pretty Hurts", a track from her self-titled surprise album, which was posted on their YouTube channel and soon made its way onto Beyoncé's Facebook page. News that Chloe x Halle — now 17 and 16, respectively —were being signed a the label in a $1.5 million deal began circulating in May 2015.
It's clear that Beyoncé's choice to support the girls is not simply altruistic. They're seriously talented.
Before Beyoncé herself discovered them, Chloe x Halle had been posting covers of hit songs to their YouTube channel for seven years. Since getting their big break, the girls have performed at 2016's South by Southwest conference in Austin, Texas, in conjunction with First Lady Michelle Obama's keynote address. They also performed at the White House and were featured in Elle as "Beyoncé's New Musical Protégés."
Most notable of all the duo's successes, though, was the release of their very first single, "Drop" on April 5. The track is otherworldly and beautiful. Vibe called it "alluring" and "chilling." No wonder Beyoncé calls the girls her "angelic aliens," as Chloe told Elle.
"'DROP' is very special to us because it was one of the first songs we fully wrote and produced ourselves," Chloe x Halle told The FADER. "It gave us the courage to trust our instincts. To see how it was made from our living room, to turning into something much bigger, is super exciting! We're so happy that we got to do our first video in such a huge way."
Beyoncé's other new signees include 29-year-old singer/rapper Ingrid and Sophie Beem, who at 16 years old is a self-taught pianist, guitarist, and vocalist.
While Beyoncé fans continue to speculate about when she'll release another album (when, Beyoncé, when??!!), she's kindly left us with some new musical acts to obsess over.