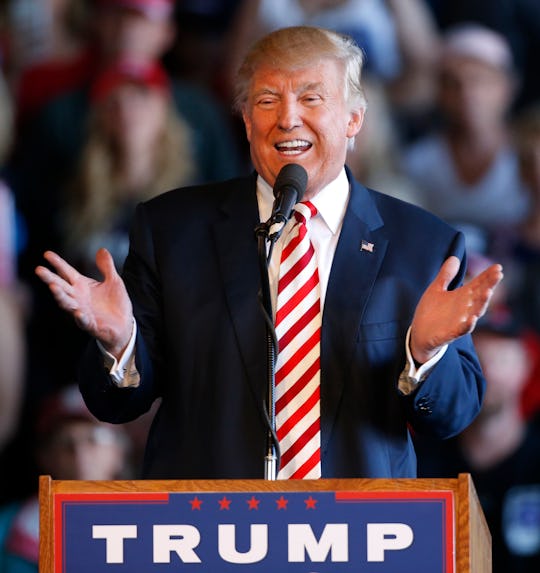 George Frey/Getty Images News/Getty Images
Who Are Donald Trump's Final Debate Guests? The Election Is Wrapping Up
It's official: The third and final presidential debate will air Wednesday night, and the two major party presidential nominees will have one last opportunity to make their case to voters on the debate stage platform. Republican Party presidential nominee Donald Trump and Democratic Party presidential nominee Hillary Clinton have battled it out in two presidential debates already. And the debates have certainly had contentious and noteworthy moments to say the least. Trump, especially, has notably made off-the-cuff statements since he announced his candidacy for president — and it continues to keep viewers on their toes in anticipation for what he'll say or do next. His announced guests to Wednesday night's debate has already stirred some questions. So who are Trump's final debate guests? Wednesday night's debate will certainly be interesting.
The New York Post reported that Trump has invited President Barack Obama's half-brother, Malik Obama, to the final presidential debate in Las Vegas. Why... you may ask? According to The Post, Trump said this about Malik Obama: "I look very much forward to meeting and being with Malik," he said. "He gets it far better than his brother."
As the BBC reported back in July, Malik Obama has publicly expressed his support for Trump and that he is voting for him on election day.
Malik Obama was born in Kenya and is reportedly a United States citizen, according to TIME. According to his interview with The Post, Malik Obama claimed he last saw Barack Obama in August 2015, but the visit was,"as usual," a "hands-off kind of thing, very businesslike, very formal," he said.
As for Trump, Malik Obama told The Post that he doesn't believe the sexual misconduct allegations against Trump because he believes they didn't "come forward before." (It's worth noting that at least one of his accusers, Jill Harth, did indeed file a sexual harassment lawsuit against Trump in 1997. The lawsuit described incidents of sexual assault and alleged "attempted rape." Harth later withdrew the lawsuit, and Trump denied the allegations. But of course, regardless, coming forward years later does not invalidate any claim of sexual assault.)
It's unclear why Trump has decided to invite Malik Obama to the final presidential debate. Barack Obama did tell Trump to "stop whining" about claims of a rigged election on Tuesday afternoon. But Trump has apparently not released a public explanation for why he's bringing the president's half-brother to the debate.
Malik Obama has expressed resentment towards Barack Obama, according to The Post, about the president's supposed lack of support for a foundation he created for a village in Kogelo, Kenya. But Barack Obama is obviously not on the Democratic ticket, so Trump's motivation to involve his half-brother remains to be seen.
According to CNN, Trump has also invited Patricia Smith, the mother of Sean Smith, one of the four Americans killed in Benghazi. Patricia Smith has publicly blamed Clinton for the death of her son.
As for Clinton, the former Secretary of State has invited two billionaires: Meg Whitman, the Hewlett-Packard CEO and former Republican California gubernatorial candidate, and Mark Cuban, owner of Dallas Mavericks, CNN reported. Both Whitman and Cuban have expressed their support for Clinton this election.
It's undoubtedly been a tiresome election cycle with a lot of information during the debates, and in between, for voters to unpack. Here's to hoping this final debate brings more clarity to voters, and less drama.