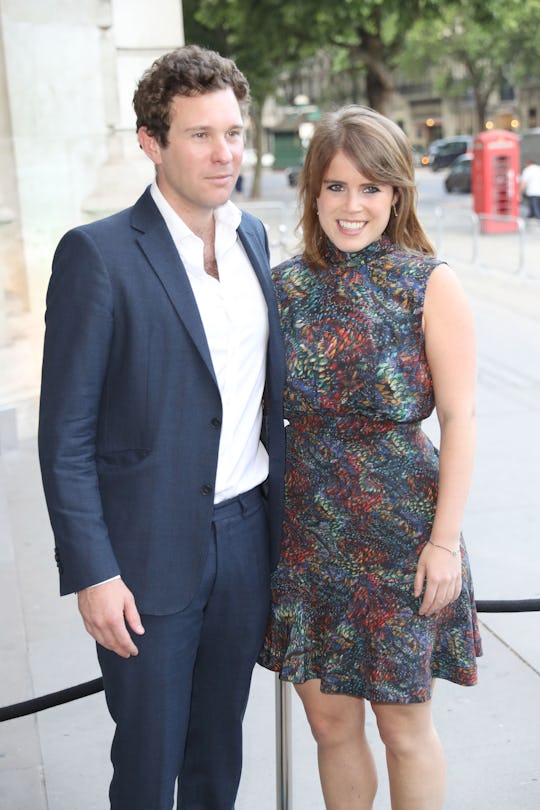 Chris Jackson/Getty Images Entertainment/Getty Images
Everything You Need To Know About Princess Eugenie's Future In-Laws
In just a matter of days, the world will get to witness yet another royal wedding this year. On Friday, Oct. 12, Princess Eugenie and her fiancé, Jack Brooksbank, will tie the knot at St. George's Chapel at Windsor Castle. You can expect to see some familiar royal faces, such as Prince Harry and Meghan Markle as well as Prince William and Kate Middleton, but what about guests of the groom-to-be? Or, more specifically, who are Jack Brooksbanks' parents, Princess Eugenie's future in-laws?
Most royal aficionados know that Princess Eugenie is one of Queen Elizabeth II's granddaughters — the royal bride-to-be is ninth in line to the throne, according to The Telegraph — and is the daughter of Sarah "Fergie" Ferguson and Prince Andrew, as noted by Good Housekeeping. But many might be introduced to Brooksbank's family for the first time this week at their wedding.
And that makes sense as Brooksbank's parents, Nicola and George, keep much lower profile, as explained by Town & Country. But Nicola has recently spoken about her son's upcoming nuptials, and she sounds as excited as the rest of us.
"We are all really excited about it," Princess Eugenie's future mother-in-law recently told The Telegraph. "We are hugely looking forward to it and we are very much hoping the weather holds out. It's been such lovely weather — we hope to have sunshine for Friday." Nicola also told the publication that the couple is "thrilled to bits" for the occasion.
As for Brooksbank's dad, George — who's an accountant and a company director, according to Good Housekeeping — he has not spoken about his son's wedding publicly yet. He did, however, tell The Telegraph in a statement with Nicola about his oldest child's engagement news that they "could not be more delighted." The statement continued, "We are completely over the moon and are very excited for them both."
George, 68, and Nicola, 64, reportedly live in London, not far from Kensington Palace in Wandsworth, according to The Telegraph. And their proximity to royalty makes plenty of sense when you consider that the Brooksbanks are "one of Britain's oldest and most well-connected families," according to the Daily Mail.
As for Princess Eugenie's future hubby, whom she's reportedly known for several years, Jack Brooksbank used to work in London's bar scene and later turned his experience into a career in hospitality, according to the Daily Mail. Now, the 32-year-old is the U.K. ambassador for George Clooney's tequila brand, Casamigos, according to Town & Country. Don't worry, Casamigos will be reportedly be poured freely at newlyweds' wedding reception, according to the Daily Mail.
And it sounds like Brooksbank has won over his future in-laws. "We love Jack and I am so excited to have a son," Princess Eugenie's mom, Sarah Ferguson, said, according to The Telegraph.
It's probably safe to say that both Princess Eugenie and Brooksbank's parents will be thrilled when the couple says their "I dos" on Friday. And if you want see how exactly everything goes down, be sure to set your alarm clocks for 4:25 a.m. ET and tune into TLC for the royal wedding's broadcast here in the United States.