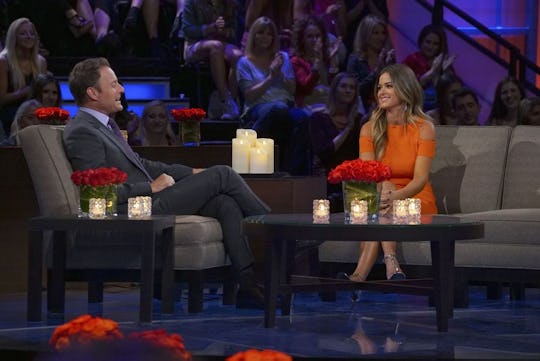 Byron Cohen/ABC
Who Are JoJo's Parents On 'The Bachelorette'? She Comes From A Blended Family
JoJo Fletcher is just one week away from giving out her final rose, and, in a season finale set in Thailand, her parents will finally meet her top two picks: Jordan and Robby. Both guys have some commitment-related flaws troubling JoJo — Jordan, that he seems uncertain about committing to one person for the rest of his life, and Robby, that he may or may not still be hung up on his ex-girlfriend. And as the sneak peek at the season finale shows us, JoJo relies on her parents for guidance. So who are JoJo's parents on The Bachelorette? Oh, just some highly educated doctor-types.
Her dad Dr. Joseph Fletcher is a gastroenterologist who has been practicing for 42 years. He was born and raised in Tennessee and attended the University of Tennessee College of Medicine. He also has two kids from a previous marriage, Rachel and Peter (also a nurse and a doctor), who are JoJo's half-siblings.
According to OK Here Is The Situation, her mom Soraya is the daughter of a prominent Iranian businessman and was previously married to a man named George Patton, with whom she escaped the Iranian revolution and came to America before JoJo was born. JoJo's half-brother Ben is from this marriage, and Matt is Ben's older brother. These are the two "protective" older siblings we saw rip poor Ben Higgins to shreds during hometowns last season. Jordan and Robby likely won't get off any easier.
Soraya also has a PhD from Vanderbilt and works as a Nurse Practitioner in Texas, so both of JoJo's parents are in the medical profession. Soraya often returns to the Middle East to volunteer in humanitarian efforts. It's thanks to her mom that JoJo has such pride in her Persian heritage, writing on her Bachelor profile last season, "I'm proud of my mother's background despite what social opinions are. It's important for me to stand up to people stereotyping Iranians."
And even though JoJo is one of five siblings in an extremely blended family, they all seem super close. Of course, Soraya is among Bachelor Nation's fan favorite moms, thanks to her brief moment of swigging champagne straight from the bottle while her son grilled Ben getting caught on camera. These are some serious in-law #goals.