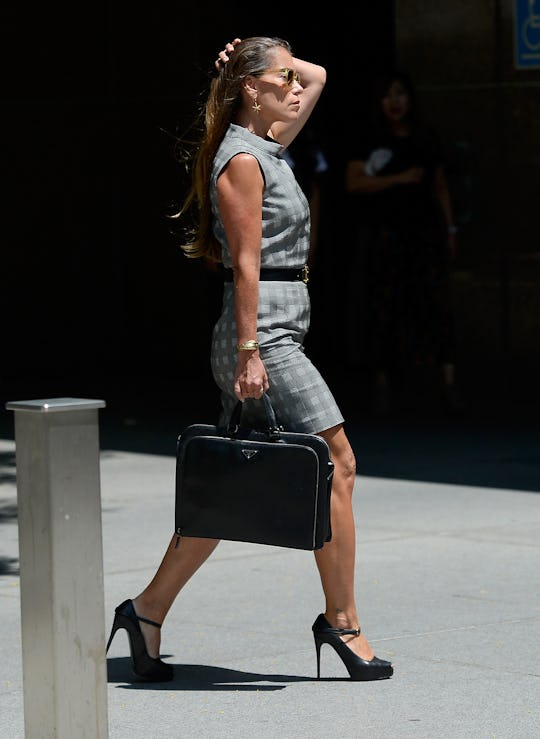 Kevork Djansezian/Getty Images Entertainment/Getty Images
Who Are Laura Wasser's Other Clients? She's Represented Some Big Celebrities
Laura Masser is clearly good at her job. She has built such a solid reputation as a divorce attorney to the stars that gossip site TMZ dubbed her the "Disso Queen" (short for dissolution of marriage). TMZ recently reported that Wesser would be representing Angelina Jolie-Pitt (previously known as half of Brangelina) in her upcoming divorce proceedings against Brad Pitt. So, essentially, Wesser will be part of what might possibly be the biggest divorce case of 2016. Which has so many people asking themselves, "What other big Hollywood names have been clients of Laura Wesser?"
Well, for one thing, this won't even be the Los Angeles-based Wesser's first time representing Jolie. When Angelina Jolie divorced Billy Bob Thornton in 2003 (do you guys remember that, because I might have forgotten for a minute and I'm not proud), Wesser represented her. Jolie and Thornton were married from 2000 to 2003, and their split was amicable, according to Thornton. He told Us Magazine that the two are still on friendly terms with each other:
"She's got so much energy and so much goodness in her," he said, "and we check in on each other all the time."
It's rather a ringing endorsement of Wesser's skills with her clients that Jolie-Pitt is turning to her again, 13 years later.
So who else has Wesser represented between Jolie's divorces? Well, basically name a star who got divorced and Wesser was probably there. She has represented Christina Aguilera, Britney Spears, Ryan Reynolds, Heidi Klum, Jennifer Garner, Kim Kardashian, Maria Shriver, and Gwen Stefani to name just a few. Most recently, Wesser was in the news when she represented Johnny Depp in his spectacularly acrimonious divorce from actress Amber Heard.
Wasser has built her rock-solid reputation (and her mind-boggling fee of 850 dollars an hour plus a 25,000 dollar retainer) as a divorce lawyer to the stars by handling these delicate situations "quickly and quietly" whenever possible. As a longtime celebrity watcher herself (she graduated from Beverly Hills High School in 1986, where her father told The New York Times that she "partied with the hot kids"), Wesser understands that image and reputation are everything in Hollywood. Which is why she works so hard to come to a quick resolution.
As she told Dame Magazine:
I know I have a reputation for being a pit bull, but really, I'm results oriented. What you want in a lawyer is someone who really tries to get it resolved out of court, but if it just can't, then let's go. Let's go, and let's crush.
Wesser will be joined by Jolie-Pitt longtime attorney Robert Offer this time around. No word yet on who will be representing Pitt.