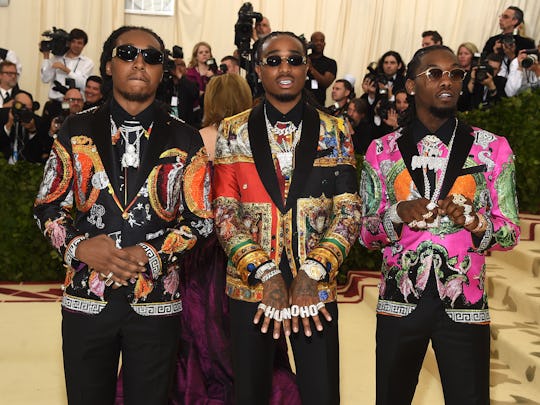 Jamie McCarthy/Getty Images Entertainment/Getty Images
Everything You Need To Know About Migos, The Talented Rap Trio Featuring Cardi B's Fiancé
If you follow Cardi B on Instagram, then you know that she and her fiancé Offset will soon welcome their first child, a baby girl, together. But if you're a diehard Cardi fan, then you also know how the Bronx-native rapper has been topping the charts lately with her hit singles, such as "I Like It" and "Bodak Yellow." Indeed, this little girl is getting one talented mama. But what about the dad-to-be? Offset is one of the talented members of Migos, the hip-hop/ rap trio behind popular jams that you've heard all over the radio, like "Walk It Talk It" and "Bad and Boujee."
In addition to 25-year-old Offset (whose full name Kiari Kendrell Cephus), Migos is also made up 25-year-old Quavo (full name: Quavious Keyate Marshall) and 22-year-old Takeoff (full name: Kirshnik Khari Ball), according to NME. Fun fact, as NME explained, Quavo and Offset are actually cousins, and Quavo is Takeoff's uncle, all hailing from Lawrenceville, Georgia. Music clearly runs in the family.
Migos got its start about a decade ago in 2008, but the rap group really shot to fame in 2016 when the single "Bad and Boujee" was released in October of that year, as Biography explained. Since then, Migos has been unstoppable and this past February, it nabbed a pretty incredible accolade. According to Billboard, Migos tied with the Beatles for "the most simultaneous entries on the Billboard Hot 100 songs chart among groups," with a total of 14 songs on the coveted list.
That's not the only time Migos has been compared to the Beatles. In fact, according to Billboard, Childish Gambino (aka Donald Glover) said during his acceptance speech for Best TV Series at the 2017 Golden Globes for his FX series, Atlanta, which Migos appeared on:
I'd like to thank the Migos — not for being on the show, but for making "Bad and Boujee." I think that they're the Beatles of this generation and they don't get a lot of respect, I think, outside of Atlanta.
Beyond their fame as a group and their TV cameos, Migos has also collaborated with numerous other artists, such as Calvin Harris, Frank Ocean, Katy Perry, and, you guessed it, Cardi B. Most recently, Migos and Cardi B have put together hits like "Drip," a single from the mom-to-be's new album, Invasion of Privacy. Previously, according to Pitchfork, Cardi B and Migos worked on the single "Motor Sport" with Nicki Minaj, and in 2017 they collaborated on Cardi B's hit single "Lick," according to CapitalXtra.
Cardi B and Offset's romance began in early 2017, according to Cosmopolitan, and between their respective (and joint) career successes and their exciting baby news, things seem to be going really well for the power couple.
Cardi B is currently in her third trimester and though her exact due date is not known, TMZ reported that she's expected to give birth sometime this summer, presumably in July. Cardi B first confirmed her pregnancy news when she performed on Saturday Night Live back in April, showcasing her pregnancy bump in a form-fitting white dress, according to Harper's Bazaar. Since then, Cardi B has been an open book about her pregnancy and her life with Offset.
Cardi B and Offset got engaged in October 2017, according to Cosmopolitan, and it sounds like they could be tying the knot pretty soon after welcoming their baby into the world, though they don't seem to be in any rush. In an April interview with GQ, Cardi B shared that they were aiming for a fall wedding, though she did not say if it would be this year or next (or further in the future), but it will probably be in Atlanta, where Offset feels the most at home. "[Offset]'s never comfortable in New York," she told GQ at the time. "He loves down south. He told me to move in with him, in Atlanta."
There's undoubtedly a lot going on for both Cardi B and the masterminds behind Migos. Indeed, the best of Atlanta is now a worldwide phenomenon and, fortunately, there's no sign of them slowing down anytime soon.