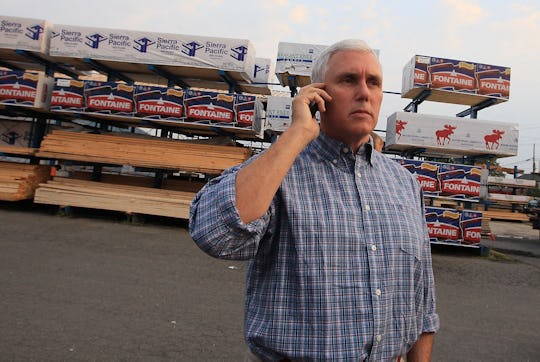 Mark Wilson/Getty Images News/Getty Images
Who Are Mike Pence's Kids? Trump's Reported Running Mate Has 3 Adult Children
Since news outlets reported Thursday that Republican presidential candidate Donald Trump has chosen conservative Indiana Gov. Mike Pence as his running mate, Americans have scrambled to learn more about the midwestern former Congressman. As part of the search for more information about the alleged VP pick, one question that naturally arises is, Who are Mike Pence's kids? The governor and his wife, Karen Pence, have three children, and not all of them agree with his political views.
According to ABC News, the Pences have three children: 24-year-old Michael, who is an officer in the Marines; 23-year-old Charlotte, who is a filmmaker; and 21-year-old Audrey, a student at Northeastern, according to her Instagram account.
In a profile of the family published in 2013 after Pence was elected Governor of Indiana, WTHR Indiana reported that the Pence kids are used to the spotlight that becomes part of life when your dad is in politics. "Frankly, we've had a pretty normal childhood," Michael told WTHR.
That seems true enough at least in terms of their educational paths, which are privileged but normal. Michael attended Purdue before joining the Marines, The Daily Mail reported. Charlotte attended DePaul University in Chicago, and Audrey is still in school.
Audrey in particular has received considerable attention since Trump chose Pence as his running mate. She reportedly has "socially liberal" views and is registered as an independent, or was in 2013, according to WTHR. The youngest Pence told WTHR then that her conservative father respects her views. "Probably the person I get the most respect from is my dad on that and he has always...he tells me so many times, 'I am proud of you for having your own opinions and looking into things,'" she said.
Charlotte was also briefly the subject of a lot of chatter following Pence becoming Trump's VP pick. Pence posted a photo on Twitter of himself and his wife eating at Chili's with Charlotte, and astute Twitter users noticed that Charlotte's reflection wasn't showing up in the mirror in the photo. Twitter's conclusion? Obviously, Charlotte Pence is a vampire. Oh, America.
More to come...