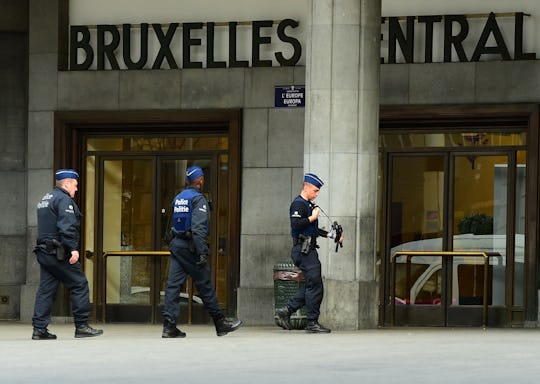 EMMANUEL DUNAND/AFP/Getty Images
Who Are The American Mormon Missionaries Injured In The Brussels Terror Attacks? Two Are Very Young
In the immediate aftermath of the brutal terrorist attacks on Brussels Tuesday, much of the focus was understandably on who perpetrated these crimes. ISIS has claimed responsibility, but equal attention is owed to the victims of their heinous acts, starting with recognizing who they were and are. For starters, who are the American Mormon missionaries injured in Brussels? According to CBS News, officials from the Church of Jesus Christ of Latter-day Saints, which is based in Utah, identified the victims in a statement posted on the LDS website. The missionaries, all of whom are also from Utah, are Richard Norby, 66; Joseph Empey, 20, and Mason Wells, 19.
Update: In a statement released later Tuesday, LDS officials said they have learned that missionary Fanny Rachel Clain was also injured:
Fanny Rachel Clain, has also been hospitalized with minor injuries. As reported previously, she was with the three other missionaries who were injured, but had left them and passed through airport security when the explosion occurred.
According to CBS News, they were close to the Zaventem Airport explosions when they happened, and they have been hospitalized. They were reportedly on mission in Paris and accompanied by another missionary, Fanny Rachel Clain, 20, who was heading to Ohio to serve there, according to The Washington Post and the LDS Church's statement. Clain reportedly had already gone through security when the airport explosions occurred.
In its statement, the Church noted that all missionaries stationed in Paris have been instructed to stay in their homes.
Romper reached out to Shannon Taylor, an extended family member of Mason Wells, on Facebook. She says, "Mason Wells is my cousins [sic] nephew. His injuries are pretty bad and require surgery." In a later statement to Romper, Taylor explained that Wells' had sustained "serious injury to his foot, and second and third degree burns to his face and head" in the blast. Thankfully, she said, the surgery went relatively well.
"His surgery went well and he is doing pretty well," said Taylor. "They said he was pretty close to the bomb and is lucky to be alive."
A statement from Empey's family, sent to LDS Living on Tuesday evening, read in full,
This has been a difficult day for our family, and our hearts are broken for those injured or killed by the attacks in Belgium. We are grateful our son, Elder Joseph Dresden Empey, is alive and doing well. He has been treated for 2nd degree burns to his hands, face, and head, and surgery was just completed for shrapnel injuries to his legs. We have been in touch with him and he is grateful and in good spirits. We have also been in contact with his mission president. We are thankful for the outpouring of love and prayers from throughout the world, and we pray for all those affected by this tragedy.
In its statement the Church also noted that "detailed, accurate information is difficult to obtain because of limited communications in Brussels."