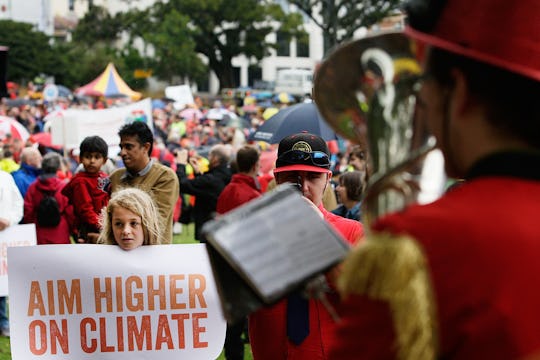 Lisa Maree Williams/Getty Images News/Getty Images
21 Kids Are Suing Trump Over Climate Change Inaction
It's a pretty open secret that President Trump is a climate change skeptic. Even before he was elected president, Donald Trump made his disdain for environmental issues like global warming abundantly clear. Which was fine for a private citizen. But as president of the United States, it is a serious cause for concern. Which is why these so-called "Climate Kids" are taking Trump to court. Because it's their future his inaction is putting at serious risk. And so these 21 young people have taken it upon themselves to rise up. To show some integrity and grit. And ultimately act as a voice for their generation.
Romper reached out to the White House for comment and is awaiting a reply.
According to their website, youthgov.org, these 21 young people are taking President Trump and his administration to federal court because they "believe that youth and future generations have the right to climate justice." Here is what they want:
We're suing for a federal climate recovery plan in line with both science and justice. No new pipelines. No more fracking. Healthier, safer communities for all of us.
One of these "Climate Kids" was speaking in front of the U.S. Supreme Court this week. Xiuhtezcatl Martinez is only 16-years-old. And yet, he is wise far beyond his years. He told the crowd:
The state of the planet is unraveling all around us because of our addiction to fossil fuels.
Martinez continued:
For the last several decades, we have been neglecting the fact that this is the only planet that we have and that the main stakeholders in this issue (of climate change) are the younger generation. Not only are the youth going to be inheriting every problem that we see in the world today -- after our politicians have been long gone -- but our voices have been neglected from the conversation. Our politicians are no longer representing our voices.
Since Martinez and the rest of the plaintiffs filed their suit in federal court in Oregon, more than 600 fossil fuel companies have joined the federal government in the lawsuit against them, according to their site, claiming that they pose a "direct and substantial threat to [their] business." Despite nearly overwhelming resistance, including several motions to dismiss by industry leaders and the government, their claim that their right to life, liberty, and property is being hindered by climate change has survived.
Trump has taken decisive steps to halt further action against climate change in his first 100 days as president. He wants to bring the coal industry back to full strength, has ordered a review of the Obama-era Clean Power Plan, announced his plans to slash the EPA's budget, and hopes to open up oceans and federally-owned lands to extract fossil fuels.
All 21 of these youths, the youngest of whom is only 9 years old, will be at the People's Climate March in Washington on Saturday. They will march for their reasonable right to fresh air, to water; to a future that isn't stymied by a blind refusal to accept scientific fact. These kids aren't just the voice of the future. They are the hope.