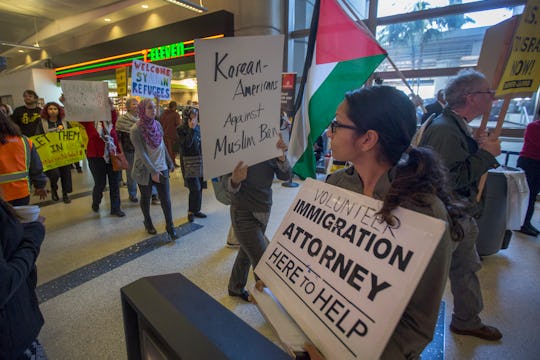 David McNew/Getty Images News/Getty Images
These Women Are Using The Law To Stop Trump
In the aftermath of President Donald Trump's order last week banning entry to the United States from people born in one of seven Muslim-majority countries, an army of civil rights and immigration attorneys descended at airports across the country. And more than a few people who saw images of the impromptu legal aid centers popping up in airport terminals noticed something many of these American heroes seemed to have in common: They were predominantly women. More notably, the female lawyers helping people stranded by the travel ban represent an interesting gender balance in that corner of the legal world.
According to a report by Quartz.com, immigration law seems to attract more women than men; While only 36 percent of practicing attorneys are women, according to that report, women make up 57 percent of attorneys practicing immigration law.
In an interview with Quartz, Jennifer Minear, national treasurer of the American Immigration Lawyers' Association, agreed that women essentially dominate the profession, "In particular in those areas where the people involved are the most vulnerable: deportation, removal, asylum, humanitarian-based, unaccompanied minors." The reason, Minear said, could have to do with the relative flexibility that comes with practicing solo, as many immigration attorneys do. But she also hinted at another, more altruistic motivation:
It's one of the best areas of law in which to make a personal, deep impact in another human being's life. I couldn't get that level of satisfaction or personal interaction in any other area of law.
A number of female attorneys spoke to Quartz and New York Magazine in the hours after Trump's ban was issued to give a sense of what their experience was like and how people were affected. Many of the attorneys represented organizations working at the forefront of civil rights and social justice issues nationwide. Here's what they had to say.
Urban Justice Center
The Urban Justice Center offers direct legal service and advocacy to help some of New York City's most vulnerable residents — including foster youth, homeless people, undocumented immigrants, and refugee mothers seeking safety in the United States. UJC Staff Attorney Melanie Zuch spoke to New York Magazine recently about helping those who had been detained at JFK airport:
When I got there in the morning, there was a young woman whose parents were coming on visitor's visas from Iran and they had been held overnight. She had been waiting a very long time for them. Habeas petitions had been filed in their cases, and they had been told that they would be sent back. But ultimately, around 3:30 p.m. they were released, which was wonderful.
People worked really hard. I was so inspired by the people that were there. People really stepped into action to put systems in place to make a more cohesive effort. Spreadsheets were coming together, Google Docs were being sent for people to put in client intake information in a centralized way. And, of course, it was chaotic but as the day went on it really came together.
Immigrant Rights Project
Described on its website as "the nation's largest pro bono law firm" Public Counsel provides volunteer attorneys for people who live at or below the poverty line. The organization's Immigrant Rights Project helps those seeking asylum in the United States, including young people eligible for the Deferred Action for Childhood Arrivals (DACA) program.
Judy London, directing attorney of the Public Counsel's Immigrant Rights Project, told New York Magazine what the atmosphere was like at Los Angeles International Airport in the hours following the announcement of the ban:
I've spent my career trying to raise awareness about immigrant rights and the plight of refugees and have always felt a bit frustrated that the public at large isn't aware of these issues, so it was incredible to see people who had never been engaged come out. I think we're going to see a very different dynamic in the months and years to come.
[...] There was also a couple that was finally released after 22 hours — they had been held without food and water. They were the elderly parents of a lawful permanent resident who lived in L.A., and they had a history of heart surgery so their daughter was very worried. These are not normal times … It was Kafkaesque at best. This was not the country that any of us were used to operating in.
Health Justice Project
According to its website, the Health Justice Project at the Loyola University School of Law works with students on the intersection of legal and health-related problems. Specifically, students help address the social and legal issues that affect the health of people in low-income or poverty conditions. Emily Benfer, founder and director of the Health Justice Project told New York Magazine that she witnessed an alarming number of children (who were U.S. residents) caught in the crosshairs at Chicago O'Hare International Airport:
In the first ten minutes of arriving, I met a man whose wife and 18-month-old daughter had been detained. He showed me a picture of his daughter. I have kids myself, and it immediately felt like this was my child. This was all of our children. This was a person that we needed to immediately act and defend and stand up for. That family, the mom and the daughter were not released until the federal order of the stay was issued.
The entire situation was incredibly harrowing and catastrophic because they were detaining children and they were detaining U.S. citizens who were traveling with people who were legal residents. We all were called to the airport expecting to meet with refugees who were trying to gain asylum into the United States and every single person that we represented, throughout the weekend, was a legal permanent resident or had a visa of some kind.
It's almost poetic that women have put up some of the most fervent and effective opposition to the president's plans to date, given Trump's blatant disrespect of women and the misogynist undertones of his policy positions. Let's count the wonderful ways that women have stood up to hold Trump accountable for truth, integrity, and civil rights, shall we?
First, there were the historic global protests of the Women's March just a day after his inauguration. Then, there were women in Congress — including Sen. Kirsten Gillibrand and Congresswoman Maxine Waters — who went public with promises to block Trump's inappropriate Cabinet picks and neutralize his harmful executive orders. There was acting Attorney General Sally Yates, who was fired by Trump for refusing to defend his cruel (possibly illegal) immigration ban. And most recently, four female judges issued a blockade of restraining orders and temporary stays that put an immediate halt to implementation of Trump's Muslim ban.
Women have stepped up "big league" against the bigotry and hate that the administration has offered so far, and the heroic female lawyers and immigration attorneys stationed at airports across the country are just one example in a wave of hopeful demonstrations. It's comforting to think that — only two weeks into Trump's term in office — we're just getting started.