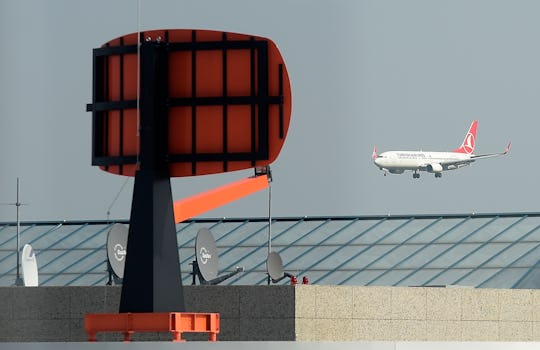 TOBIAS SCHWARZ/AFP/Getty Images
Who Are The Istanbul Airport Attack Victims? Here's What We Know So Far
Two explosions hit Istanbul's Ataturk Airport, the country's main international airport, on Tuesday, June 28, according to Reuters. Though details on the Istanbul Airport attack are only slowly trickling out, the world one again has to wonder about the lives lost and the victims of the Istanbul Airport attack. Initial reports put the death toll at 28, but officials have yet to confirm that number as the final count. Turkish Justice Minister Bekir Bozdag confirmed to CNN, however, that 28 people died so far in the explosions at Ataturk Airport in Istanbul.
Update, 7:17 p.m. ET: Istanbul's governor says at least 31 people were killed in the Istanbul Ataturk airport attack, and at least 60 were wounded, according to the Associated Press. Authorities believe there were three suicide bombers.
Anadolu, Turkey's semi-official news agency, according to CNN, reported that three explosions occurred inside the Ataturk Airport, just outside of the terminal and just inside near the security gates. Three suspects reportedly blew themselves up, Turkish officials told CNN, adding that police did fire shots at suspects "in an effort to neutralize them." There is no official word from Turkish official sources on whether or not the attack was caused by terrorism. Bozdag, however, did tell CNN that one attacker "opened fire with a Kalashnikov then detonated himself" at the airport entrance. According to the BBC, 28 people have been confirmed dead and at least 60 more wounded and rushed to the hospital. The wounded, BBC reports, are being ushered off to area hospitals in taxis.
As officials search for answers, cause, and the motivations behind the attacks, the rest of the world is all to familiar with what happens next: the devastating, heartbreaking scroll of victims whose lives were lost and/or forever changed in the wake of the attack. Tuesday's attack at Istanbul Airport comes on the heels of the Orlando Pulse nightclub shooting and terror attack, which killed 49 people and wounded 50 more. Pulse is now America's worst mass shooting.
Ataturk is one of Turkey's most trafficked airports, and the BBC notes that more than 61 million passengers traveled through the airport in 2015. That number has likely gone up since then, as it's one of the most popular airports in the area. CNN reports that Ataturk Airport is the 11 busiest in the world, as far as passenger traffic goes.
In the aftermath of the explosions, Facebook has activated its Safety Check feature so that those living in, visiting, or traveling through Ataturk airport can let families, friends, and loved ones know that they're safe. The U.S. Department of State Bureau of Consular Affairs also released a tweet urging Americans traveling in the Turkey to avoid the airport and neighboring areas.