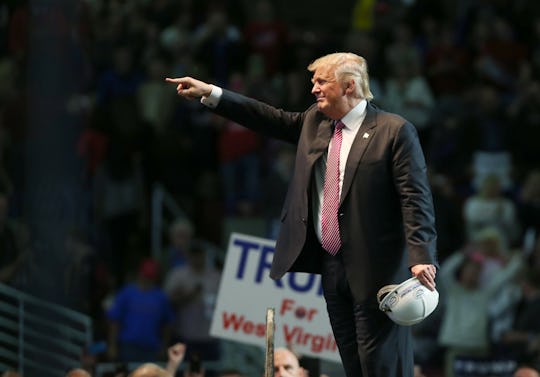 Mark Lyons/Getty Images News/Getty Images
Who Are Trump's Potential SCOTUS Nominees? He's Got A List With 11 Names
He may not be the president yet (or ever), but Donald Trump is already preparing to nominate a Supreme Court justice to fill Justice Antonin Scalia's seat, according to the Associated Press. So who are Trump's potential SCOTUS nominees? There are 11 names on the list: Steven Colloton of Iowa, Allison Eid of Colorado, Raymond Gruender of Missouri, Thomas Hardiman of Pennsylvania, Raymond Kethledge of Michigan, Joan Larsen of Michigan, Thomas Lee of Utah, William Pryor of Alabama, David Stras of Minnesota, Diane Sykes of Wisconsin, and Don Willett of Texas. Sorry, Merrick Garland.
According to Politico, six of the names on the list are federal appeals court judges, and five are state Supreme Court judges. All were appointed by Republicans. Trump previously said in March that he was looking for a judge who would "look very seriously" at Hillary Clinton's private email server use while serving as Secretary of State. The question is, did Trump actually vet these names himself? The list was presumably released in order to prove to the GOP that Trump is actually a serious candidate, but I wonder if they're all actually Trump's choices. I know if someone compared me unfavorably to Darth Vader, I wouldn't be so keen on appointing them to one of the most powerful jobs in the country.
Willett was appointed to the state supreme court by Texas Gov. Rick Perry in 2005. Eid, a former clerk for Justice Clarence Thomas, was appointed to the state supreme court by Colorado Gov. Bill Owens in 2006. Lee, the brother of Utah Sen. Mike Lee and also a former Thomas clerk, was appointed by Utah Gov. Gary Herbert in 2010. Stras, yet another former clerk of Thomas, was appointed by Minnesota Gov. Tim Pawlenty in 2010. And Larsen was appointed by Michigan Gov. Rick Snyder in 2015. It's not hard to see why Trump picked Larsen; as a deputy assistant U.S. attorney general in 2002, she co-authored the so-called "torture memos," which provided legal justification for waterboarding and other "enhanced interrogation techniques," according to Michigan's MLive news, and we all know Trump's a big fan of torture.
Colloton, Gruender, Pryor, Sykes, Hardiman, and Kethledge were all appointed to the U.S. Court of Appeals by then-President George W. Bush between 2003 and 2008. Some interesting notes: when the Eighth Circuit upheld an injunction against a South Dakota law that required abortion providers to tell patients that "abortion will terminate the life of a whole, separate, unique, living human being," Gruender dissented, arguing that the law didn't violate physicians' First Amendment rights or impose an undue burden on patients. Pryor upheld a restriction against feeding the homeless in Orlando, and Sykes' ex-husband is a prominent radio host and self-described "Never Trump Guy," which is fun. It's a very colorful crew that, if we're lucky, will fade out of a news a bit once America finally wises up and declines to elect Trump president. Fingers crossed.