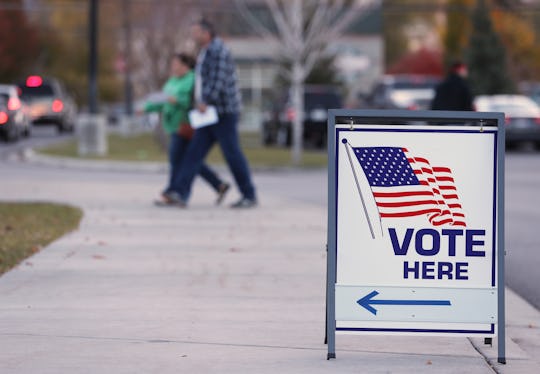 George Frey/Getty Images News/Getty Images
The Results Are In: Here's Who Controls Congress Now That The Midterms Are Over
The midterm elections this week were a big deal. I mean, every election is a big deal, but this one felt momentous despite the fact that voters weren't choosing a new president (I wish, but oh well). This time around, voters were more concerned with who will control Congress: the Republican party or the Democrats.
By the time the polls closed across the country on Tuesday, everyone was anxious to find out what Congress might look like after the election. All 435 seats in the House of Representatives were up for grabs, not to mention 35 Senate seats and 36 governorships. As important as all of those roles might be, one of the real concerns was control over Congress. I mean, let's just take a moment to consider how important it is to actually control Congress. For the past two years, the Republicans have been in control of Congress, as well as having President Donald Trump sitting in the White House. Republicans have been so powerful in the past two years that Democrats have struggled to gain a foothold in Congress, as The Washington Post reports. The Democratic party went in to Tuesday's election with some pretty high hopes and a lot of pressure to perform — because a Democratic-controlled Congress would mean a serious flip in power and a renewed ability to oppose some of President Trump's questionable policies.
Alas, the Democrats gained control of Congress, as projected by CNBC at approximately 10:56pm ET on Tuesday, Nov. 6.
As of Tuesday morning, CNN had already reported that the Democrats had a slight edge over Republicans, particularly in suburban areas. That being said, Reuters noted that this election, where Democrats would need to gain at least 23 House seats, was potentially too close to call before polls actually closed — especially with so much at stake. Trump's agenda, for one, as well as the future of health care, the stock market, and immigration laws hung in the balance.
In the end, it seemed the American people were ready to see some serious change. After millions voters went to the polls to make sure their voices were heard, Democrats reportedly won control of Congress. Of course, this major shift in power could have serious ramifications for President Trump. As The Guardian reported, it could mean an investigation into Trump's potential ties with Russia could be reopened. It most definitely means the president and his fellow Republicans will be in for more of a fight within the House of Representatives for the next few years.
As Dan Rathers put it on Twitter, "Democratic control of the House will change the course of this country. Ladies and gentlemen, this is a very big deal."
This shift in power hopefully spells a new era for Democratic leadership in Congress. After struggling in vain to be heard over the past two years, here's hoping those in leadership will continue to listen to those voters who brought them back to power. That they will affect positive change in Washington and beyond.
And that they'll put up a good fight against the Trump administration's divisive nature. For another two years, at least.