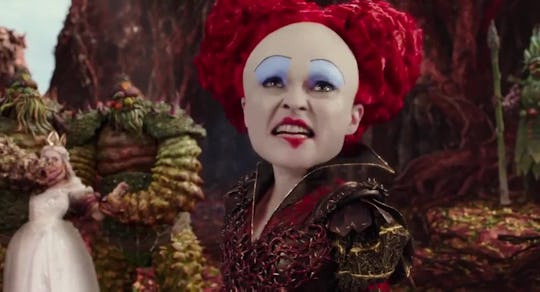 Walt Disney Studios
Who Designed The Costumes In 'Alice Through The Looking Glass'? They May Be The Best Part
Wonderland fans, rejoice! Alice Through The Looking Glass comes out this week. While the movie's predecessor, Alice in Wonderland, may have received mixed reviews upon its 2010 debut, critics were unanimous on loving one aspect—the costumes. So naturally, people want to know who designed costumes for Alice Through The Looking Glass, and if they'll measure up. Have no fear, because the costume designer from the first Alice is returning!
In case you haven't been paying attention, the new Alice follows the titular character, played by Mia Waskiowka, as she returns to the whimsical Wonderland in hopes of saving Johnny Depp's Mad Hatter. To do so, she has to travel through time (no biggie), encountering fan favorites like the Cheshire Cat, and big celebrities like Anne Hathaway. And of course, all the while, she wears some kick-ass clothes.
The costume designer for the Alice movies is Colleen Atwood, who won an Oscar for her work on Alice in Wonderland. She added that golden man to her already-impressive collection, with two more statuettes for Memoirs of a Geisha and Chicago, and many other nominations. She's worked on almost every Tim Burton movie (like Edward Scissorhands!), and in the years between Alice films, she's kept busy with a new focus on superheroes, designing for Arrow, The Flash, and Supergirl.
But she certainly jumped back down the rabbit hole with glee, it seems, because the pictures of her new costumes look just as glorious as the old ones, filled with color and craziness. But they couldn't get too crazy since, as Atwood told Grazia:
Each audience brings their own imagination of reference to what they see, so as designers we have to create a world with which the audience connects. They have to believe in the characters and relate to them emotionally.
In the same interview, she told the website that she drew a lot of inspiration from researching the illustrations in the original Lewis Carroll books, and from Japanese designs, which all came together to create an eye-popping visual experience.
And for all those wishing they could get a bit of Alice's style for themselves, Atwood partnered with Lauren Conrad to design a line of Wonderland-inspired clothing for Kohl's. According to a review on Nerdist, the collection is "ethereal and airy, taking whimsical design direction from floral inspirations, teacups and the white rabbit. The breezy pieces all feel like a perfect fit for a fun springtime tea party, mad or otherwise."
So even if the movie has been getting some harsh reviews so far, fans should be more than content with the costumes, both on the movie screen and on the rack at their local store!