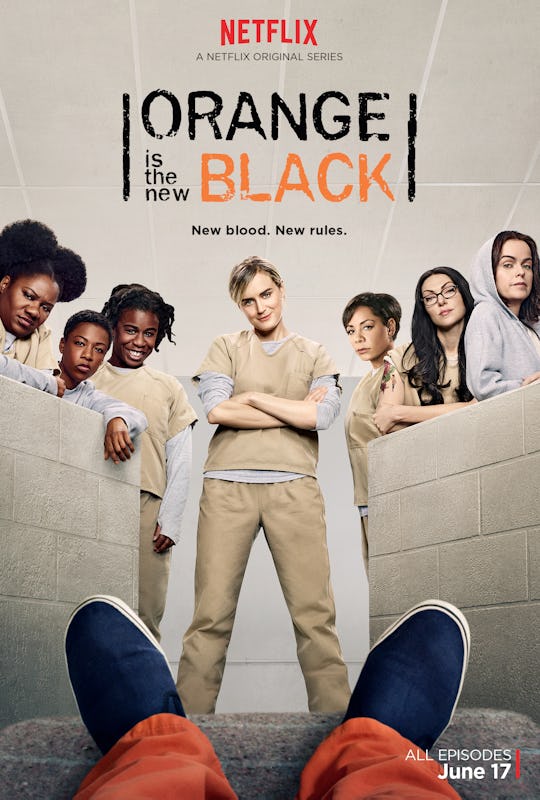 Netflix
Who Dies In 'Orange Is The New Black' Season 4? It Was A Shocking Loss — SPOILERS
(Warning: This post contains spoilers from the entire fourth season of Orange Is the New Black, which premiered June 17, 2016). If you've found yourself here, that means one of two things. The first is that you have already watched Orange Is the New Black Season 4 and would like to discuss the big loss of this season. The second option — which is slightly more sadistic — is that you haven't seen the Season 4 finale and are willing to forgo the big surprise in Episode 12. If you are here by accident — turn around now. I won't be mad. Because, we're about to talk about who dies in Orange Is the New Black Season 4, and it is not going to be pretty.
OK, so if you're sure you haven't stumbled upon this without willingly accepting the consequences of reading it, we shall continue. Orange Is the New Black is known for teasing characters' departures and deaths. Each season someone "leaves" the show, only to post a photo about being on set just days later (ahem, Laura Prepon). Or, there will be a fan-favorite (Bennett) who will depart from the show, leaving fans to wonder if and when they'll return (the answer is not this season, for Bennett at least). But then there's those we actually lose. In Season 4, Poussey Washington died, and her death was not only unexpected, but it was unwarranted and unneeded.
Poussey's death happened very fast. In fact, the first time watching it, you may miss exactly what happened. Basically, the inmates at Litchfield had finally had enough from the guards. They decided on a peaceful protest — standing on top of the tables just like Blanca and Piper had to do earlier in the season for being insubordinate. With the entire group standing in front of the guards, vowing to not move until Piscatella resigned (or was fired), the guards became violent. Pulling them off the tables and "calling in reinforcements" sent orderly protest into chaos, and before you knew it, Taystee was crying for Poussey, who was pinned underneath Bayley, motionless.
It is important to note, I think, that earlier in the conversation between Poussey and Soso, Poussey didn't believe in participating in the protest. She was focused and determined to keep her head down and get out of Litchfield so she and Brook could start their lives together. So, when it was revealed that Poussey stood up on the table, it was much more than her standing along side the inmates. It was her standing along side Soso.
In the struggle, Bayley was fighting off Suzanne while pinning down Poussey, who was barely squeezing out "Get off of me," and mouthing "help me." From the looks of it, Bayley had his hand on Poussey's neck, which could have restricted her breathing. Plus, she was about half his size, being smushed under him as he defends himself. It was never going to be a win-win combination.
Poussey's death was paired with a flashback of her backstory. Unlike other inmates, Poussey's was showing the best side of Poussey. It showed a carefree, young, and adventurous Poussey. The final moments of the entire season showed Poussey looking over the river in New York, and turning to the camera with a smile on her face, as if she knew. Was it OITNB's way of breaking the fourth wall, or was it just the final way to remember one of the best inmates on the show? Whatever it is, Poussey's death was not for nothing. There is no doubt that her murder — which was glossed over by Caputo for the press — will carry on through next season. If anything, the lack of rightful attention she received during the press conference about her death instigated the riots, so something tells me Poussey will live on, no matter what.