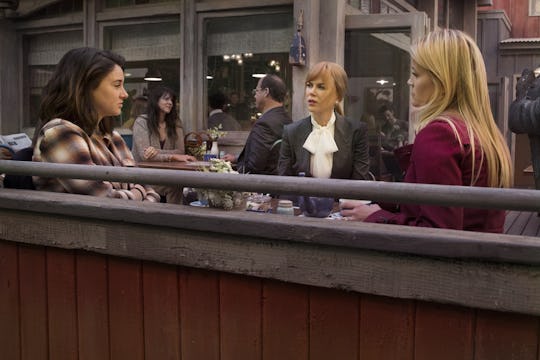 Hilary Bronwyn Gayle/HBO
The 'Big Little Lies' Book Holds All The Answers
If you're anything like me, you've found yourselves obsessing over HBO's addictive new drama series, Big Little Lies. I mean, it has everything a great series needs: an amazing cast of characters, great writing, and a major mystery to solve. I'm referring, of course, to the murder that eventually takes place in this normally safe town of Monterey. So considering the show is actually based on a novel by the same name, many viewers may be wondering who dies in the Big Little Lies book? Because there's a good chance the victim and the killer will turn out to be the people in both the show and the page. (Warning: major book spoilers ahead! Proceed at your own risk.)
In the book, the mystery death turns out to be none other than Celeste's abusive husband, Perry. And while you may automatically assume that this means Celeste is the killer who was finally fed up with being under his control, you would be wrong. At least if the show sticks to the novel anyway. Perry's death comes at the hands of Nathan's new wife and Madeline's arch nemesis, Bonnie, who we later learn was also the victim of assault. Upon learning of Perry's inexcusable actions — he not only physically abuses Celeste but is revealed to be the man who raped Jane — Bonnie takes matters into her own hands at the school's big Trivia Night by pushing him to his death from a balcony.
Now, it's important to keep in mind that this doesn't necessarily guarantee that things will play out in this precise way on the series. The writers could decide to switch things up so that neither newbie watchers or book fans will be able to predict what's coming. However, considering that executive producer David E. Kelley recently told Variety in an interview that the show will remain pretty fateful to the original text, I feel like the victim and killer will both remain the same. Otherwise, that would be considered a massive change.
That's not to say that Perry won't deserve it, of course. I'd much rather see his demise than Madeline, Celeste, or Jane. He may genuinely love his wife, but his behavior towards her is unforgivable and from the look of things so far, despite his mild attempts to correct his aggressive behavior, he's not going to stop. Celeste's life would be a much happier one with him out of the picture for good, and if the series plays out as it should, then that's exactly what's going to happen.