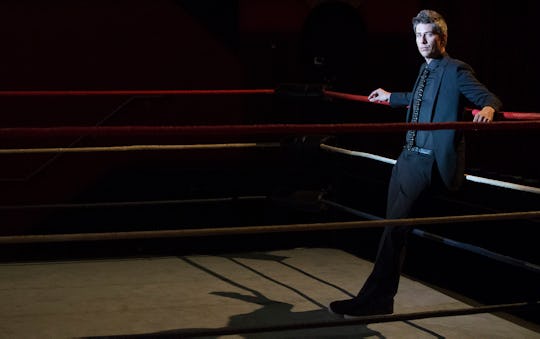 ABC
Arie's Hometown Dates On 'The Bachelor' Featured Some Ups & Downs
Aside from a truly excellent taxidermy date, Arie Luyendyk, Jr.'s round of hometown visits were, much like the rest of this season, pretty sleepy. He spent a day each with Lauren, Tia, Becca, and Kendall, followed by dinner with each of their families, so viewers may be wondering: who does Arie end up with on The Bachelor? Some dates went better than others.
Bachelor Nation noticed that this was a particularly critical series of family members (although I suspect it was edited that way because nothing too interesting was going on in any of Arie's relationships). Kendall and Arie spent a day doing taxidermy with rats and then he met her family, including her identical twin sister Kylie. (Yes, they are identical twins who live in Los Angeles named Kendall and Kylie.) Kylie was the most critical family member, while Kendall's family generally seemed the most relaxed and fun. (No surprise there.)
Tia and Arie spent their day together racing in Arkansas, and although her dad made all the stereotypical shotgun jokes we've come to expect from the "tough Southern dads" on the show, he eventually warmed to Arie. His change of heart seemingly owed to the fact that Tia had dated such horrific people in the past and Arie was a massive improvement. Tia's dad was also vocal about trusting his daughter, after all her previous heartbreak, to choose healthier relationships for herself.
Becca's family brought the heat after their apple-picking date in Minneapolis, giving us the "niece of a pastor" narrative. (Becca's dad Steve died about ten years ago and her Uncle Gary, who has stepped up as a father figure in his stead, is a pastor.) He dutifully asked Arie if he could see himself adopting a more faith-based lifestyle than he currently has and Arie told him he'd be open to it. Becca's mom weaseled out of giving "permission" for her daughter's hand in marriage but she did give her blessing to whatever Becca chose for herself.
Lauren, with her ex-Air Force dad, had yet another tough (and archetypal) patriarch at the helm ready to rake Arie over the coals. But Arie quickly landed that plane (see what I did there?) by telling a story about how he went on a good will tour to Iraq with a group of race car drivers in 2008. Lauren's was won over but her mom was still pretty skeptical. Her mom also mentioned that they were a "conservative family" — interpret that how you will — and wondered how Arie would fit in.
When it came time for the rose ceremony, Arie threw a uncharacteristic curve ball: he asked Kendall if they could step outside and talk before he handed out roses. The biggest obstacle in their relationships seems to be Arie's skepticism that she's ready for an engagement, and her family picked up on it. Her sister even said that although she sees Kendall feels safe with Arie, Arie doesn't necessarily feel safe with her.
But back at the rose ceremony, Kendall got a rose, sending home a completely devastated Tia. So Kendall, Becca, and Lauren are all traveling to Peru together for the next leg of the trip, and while Kendall definitely seems like the most precarious relationship of the bunch, we do know that someone's ex-boyfriend shows up in the finale to "win back his girl."
We know Kendall hasn't had many serious relationships, so it's safe to assume that he belongs to either Becca or Lauren, which may put one of their relationships in serious jeopardy. Arie's final three are a bit of a surprise, so I wouldn't place bets on the show going where we think it's going just yet.
Check out Romper's new video series, Romper's Doula Diaries:
Watch full episodes of Romper's Doula Diaries on Facebook Watch.