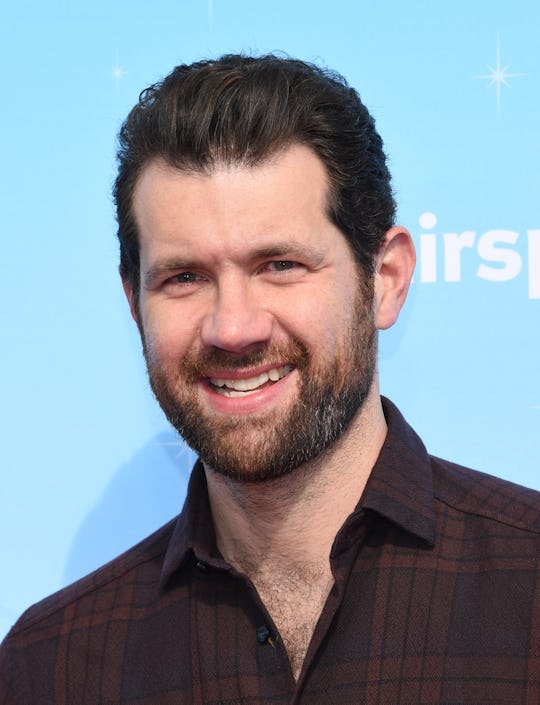 CHRIS DELMAS/AFP/Getty Images
Who Does Billy Eichner Play In 'Hairspray Live!'? Rob Barker Is The Main Newscaster
Any time you've seen Billy Eichner, he was probably yelling at you through the TV screen about something ridiculous, but delivering it in such a way that you welcomed his over-the-top dramatics. So it should only make sense that he be cast in the NBC special Hairspray Live!. But who does Billy Eichner play in Hairspray Live!? Rob Barker is a character that you may have seen, in a roundabout way, in other versions of Hairspray, but this might be the first time he has been given a name — which can only mean that Eichner bringing the character to life will be everything.
Rob Barker in Hairspray Live! is a WZZT Baltimore newscaster who reports Tracy's alleged crime and escape from the police, as well as her attempts to try and integrate the Corny Collins Show, on which she had been one of the lead dancers until resident villain Velma Von Tussle and daughter Amber run her out. You know, the kind of dramatic stuff that most musicals are made of.
In all of the original versions of Hairspray, including the 1988 and 2007 movies, as well as the Broadway musical, there were newscasters credited, but without actual character names. And if you know Eichner, he's going to be dramatic and frantic enough to warrant an actual name for his character, rather than Newscaster #3.
Eichner has brought hilarious characters to the small screen in the past, such as with Craig in Parks and Recreation and Billy in Difficult People, and he's always a memorable and well-loved character each and every time. Rob Barker will likely bring some more of that famous Eichner drama to Hairspray Live! and I honestly cannot wait to see how it all plays out.
In 2013, NBC aired another live version of a popular musical, The Sound of Music Live!, starring Carrie Underwood and Stephen Moyer, but Hairspray Live! is to be the biggest live musical cast that the network has seen, with Kristin Chenoweth, Ariana Grande, Rose O'Donnell, Martin Short, and Harvey Fierstein, among many others starring in the now-iconic roles. So Eichner will be in good company.
Eichner talked to Kathie Lee and Hoda Kotb on the Today Show about his small "but pivotal" role on Hairspray Live! where he joked about not wanting to screw it up, as it is aired live. But something tells me the comedian thrives in the unknown of a live performance. Rob Barker in Hairspray Live! keeps Baltimore up-to-date on the antics of dancer-turned-fugitive Tracy as she goes on the lamb. Sounds like the perfect part for a comedy pro like himself.
Hairspray Live! airs on NBC on Dec. 7 at 8 p.m. (ET).