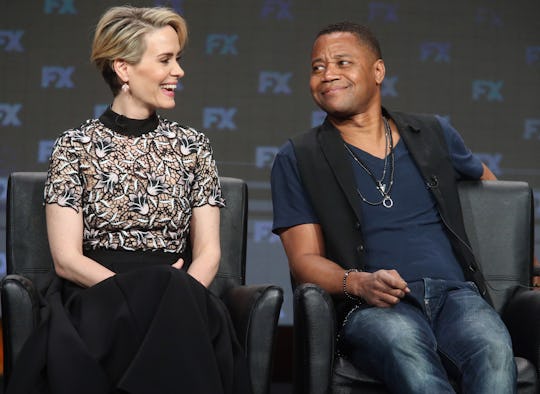 Frederick M. Brown/Getty Images Entertainment/Getty Images
Who Does Cuba Gooding Jr. Play On 'American Horror Story' Season 6? He Is A Murphy Alumni
It's no secret that the upcoming Season 6 of American Horror Story has been shrouded in mystery, with its logo even containing a question mark, but at the very least, we have been given confirmation of much of the cast and that's something. Fresh off his stint as O.J. Simpson in American Crime Story, Cuba Gooding Jr. will come back to TV, this time on Ryan Murphy's other anthology, but who does Cuba Gooding Jr. play on American Horror Story? Understandably, much of the details have been kept quiet, which is kind of expected, since the majority of any details surrounding Season 6 of American Horror Story have been kept on the down low overall, but the amount of excitement Gooding seems to have to become a part of American Horror Story, now that he's popped his Murphy cherry with American Crime Story, is kind of adorable.
Most recently, Gooding played O.J. Simpson in a retelling of the famed 1995 murder trial which found Simpson not guilty of murdering ex-wide Nicole Brown Simpson and her friend, Ron Goldman, and it was hard not to love Gooding in the role. So it was really no surprise that Murphy asked him back before a new season of American Crime Story was even worked out, to work with some of the American Horror Story alums.
When you have an upcoming season that you don't even know the plot to, given the intended mystery that currently surrounds Season 6 of American Horror Story, you're obviously not going to get much information on the cast and characters, but with a show like this, you don't really need to know much to want to come back. Each of the previous five seasons have proven themselves worthy of the millions of viewers each week, with each season culminating with shocking and satisfying season finales.
And even though Gooding wasn't originally a fan of American Horror Story, given that he apparently doesn't like the horror genre (really?), being asked by Murphy to return to TV in another one of his hit shows made the former American Crime Story star jump on binging the entire series. Because, according to Gooding's interview with ABC News, when Murphy asks you to work with him, you don't just say no. Like, ever.
"When he asked me to step into this role, I went and binge watched the other five seasons and was truly blown away. I mean, yes, I had to fight through all of the gore and the scary stuff, but that first season of American Horror Story is brilliant television... When you watch it as a whole, as a piece, it really is a powerful statement and this statement we're making this year is just the same. It's more of that brilliance that is that Murphy brand."
American Horror Story circle jerk aside, though, Gooding's role in Season 6 should be golden, if his role in American Crime Story is any indication. Granted, he'll be taking on a unique role that won't requiring studying a famous face in history, but that might make his portrayal even stronger. Season 6 of American Horror Story premieres on September 14 on FX.