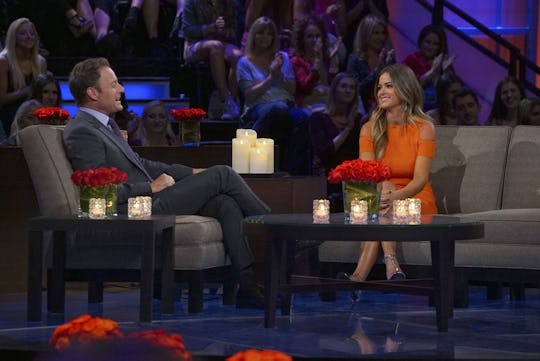 Byron Cohen/ABC
Who Does JoJo Want To Be 'The Bachelor'? She's Keeping Quiet
Saying goodbye has been hard for JoJo on The Bachelorette; you can tell because she has a full scale sobbing breakdown every time she has to see a guy to his limo. Overwrought as it may be (this is television), she still seems to want the best for these guys. Even though she's not the one for them, she obviously still wants them to find love, just like when she consoled poor sad James Taylor and told him that it would indeed happen for him one day. With all those positive feelings flying around, it can make you wonder if there's anyone she'd like to see succeed her as the next in line in the franchise. Who does JoJo want to be The Bachelor?
JoJo might be too busy waiting for the outcome of her season to air to think about what comes next, because she hasn't given an official stamp of approval to any of the contestants when it comes to the next Bachelor. She hasn't dropped any hints about which of the guys she might want to take over on the next season, but going by how fondly JoJo thinks of all of them (minus Chad), she'd probably be glad to see any of the guys try for a second chance at love.
After the sudden exit that left him stunned, Luke Pell has emerged as a frontrunner for the next Bachelor, if not a lock for the position. He seemed to have everything going for him and his connection with JoJo was obvious, but despite his Nicholas Sparks leading man qualities, he still got the boot. It was a pretty good set up for him getting a shot at leading his own season of the show; it will be easy to root for a guy as nice as Luke to get over his heartbreak. He may not have JoJo's endorsement at this moment of time, but Luke is still open to the opportunity – in part because of her.
When asked about the possibility by Glamour, Luke had this to say: "If that's something that comes up, I'm open to that. I truly am. I saw that it worked for JoJo, and JoJo said that it worked for her even when she was on Ben's season, so having and hearing that firsthand, it worked for me. I was in love. It was intentional and it was real, so that certainly could be something I'd be open for in the future."
Perhaps JoJo will offer her opinion on the next Bachelor during the "Men Tell All" special, but whether she does or not, it seems like a safe bet that fans want to see more of Luke.