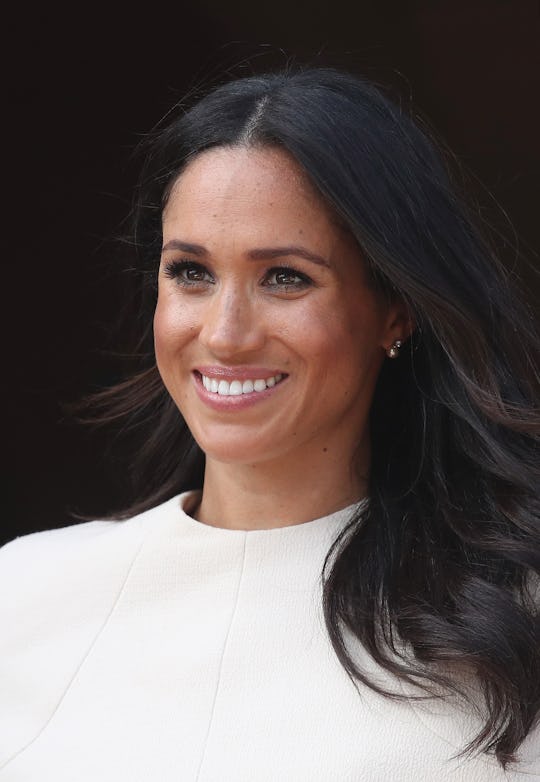 Chris Jackson/Getty Images Entertainment/Getty Images
Meghan Markle Keeps Her Beauty Routine Simple For A Classic Look
Of course all eyes were on Meghan Markle, Duchess of Sussex, during her wedding to Prince Harry, Duke of Sussex, but just because the elegant nuptials are over doesn't mean everyone's stopped paying attention to her, especially when it comes to her appearance. Markle, like her sister-in-law the Duchess of Cambridge, always looks timeless, classic, and flawless in public appearances, no matter what the occasion is. So who does Meghan Markle's makeup? Because seriously, I need some of that in my life.
According to Glamour, Markle's specific wedding look was styled by someone well known in Hollywood — Daniel Martin. The makeup artist has worked with celebrities like Chrissy Teigen and Jessica Alba, but he was also no stranger to Markle and worked with her during her role on Suits. But he's more than just a renowned makeup artist — he's also really great at bringing out someone's natural beauty and highlighting the best parts of them, like Markle's freckles. In the same article, Martin told Glamour that when it came to Markle's wedding makeup, he wanted to avoid covering everything up with heavy makeup. "I focused on bringing out her best self and elevating it to a level, that you're not necessarily able to achieve yourself," he said.
And dude. He totally nailed it.
But Meghan's no stranger to looking natural and preferring a more dewy look than a lot of other celebrities. I mean, her skin is radiant, and that's because she chooses products that don't require a lot of fuss for her look. Today reported that some of her favorite items in her beauty routine are Nivea Q10 Skin Firming Hydration Body Lotion, Laura Mercier Radiance Foundation Primer, and NARS Orgasm Blush. Basically, she likes light, dewy, and soft. But does she do it all on her own?
Aside from the makeup artist who did her wedding day look, there hasn't been much talk about who does Markle's makeup now that she's officially the Duchess of Sussex. Romper has reached out to Kensington Palace for a comment, but has yet to hear back. What fans do know is that from 2015 to 2017, before her move to London, Markle worked with makeup artist Lydia Sellers, reported People. She told the magazine that Markle has always preferred a natural, more timeless look, and that the Duchess is very knowledgeable about products. Which might be why there was some speculation that Meghan would be doing her own makeup for the royal wedding, according to Harper's Bazaar. Before the big day, sources close to Markle had told outlets that she wanted to do her own makeup like Kate did on her wedding day in 2011, and that she only intended for her friends to help her out. Considering Martin, the makeup artist who made her look even more flawless on her wedding day is also a close friend, it totally still counts.
Whether Markle has a makeup artist who follows her around or not, it's obvious she knows what it takes to get a dewy, fresh, clean look. The same Harper's Bazaar article mentioned above reported that Markle told Allure in 2014 that she has a "five-minute face" routine to keep her look simple and timeless. The routine includes a bit of concealer, curled lashes, mascara, Chap Stick, and a bit of blush. The Duchess noted, at least back then, that she avoided foundation unless she was on set, and it's fairly obvious she loves for her natural freckles to shine through any look she tries. If she's willing to do her own makeup on her wedding day, I assume she's totally OK captaining her beauty routine for any public appearance.