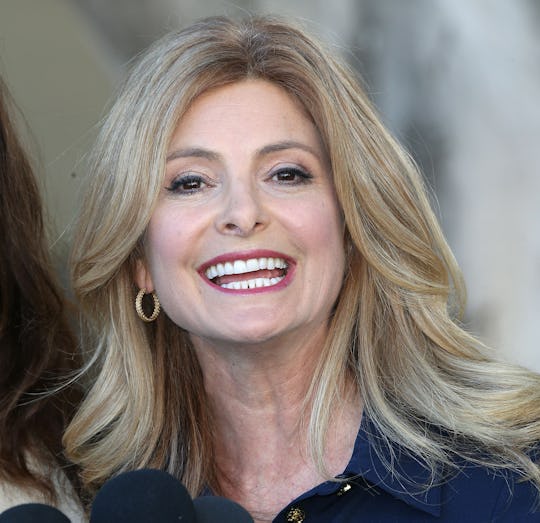 Frederick M. Brown/Getty Images Entertainment/Getty Images
Who Else Has Lisa Bloom Represented? The Attorney Works With Sexual Assault Survivors
About a month before Donald Trump accepted the Republican party's nomination to be its official presidential candidate, an anonymous woman filed a lawsuit alleging that he, along with another man, had raped her in 1994, when she was just 13 years old. Trump, of course, vehemently denies this and other accusations of sexual misconduct, but Wednesday was to be the day that this "Jane Doe" revealed her face and name to the public. Just before the press conference was to start, though, it was cancelled, with the woman's legal counsel explaining that Doe had backed out in fear after receiving "terrible threats." And bearing the brunt of terrifying epithets is common for the accusers Lisa Bloom has represented, the attorney said.
As the founder and owner of her own California-based law firm and frequent legal analyst for major networks like CNN and NBC, Bloom has experience representing both high-profile people and women accusing celebrities of sexual assault. In fact, Bloom and her mother, famed feminist attorney Gloria Allred, are each representing some of the more than 10 women who have accused Trump of making alleged unwanted sexual advances on them. With less than a week to go until the election, Bloom is hoping to reschedule Jane Doe's press conference so that the little-publicized case will get the attention she feels it deserves. (Romper reached out to the Trump campaign for comment but did not immediately hear back.)
In the meantime, she's also acting as legal counsel to Jill Harth, a makeup artist who filed a lawsuit in 1997 accusing Trump of attempted rape back in 1993. Harth began talking publicly about the allegation again soon after Trump announced his presidential bid — and he quickly called her claims "meritless," according to The Guardian. Ivanka Trump too claimed in a subsequent interview that her father is "not a groper." Harth felt those remarks were defamatory, and so hired Bloom.
"Jill is very clear that she is not a liar," Bloom told the newspaper. "And her reputation is important to her. And her living a life free of this kind of stress is important to her. So we're calling on not only Mr. Trump, Ivanka Trump, too."
Trump isn't the only rich and powerful man against whom Bloom has teamed up with an accuser. Onetime supermodel Janice Dickinson is suing accused serial rapist Bill Cosby for defamation after her "branded her a liar," as Bloom wrote in the legal complaint, for accusing him of drugging and raping her in 1982. In March, a judge ruled that the case would go to court. Cosby has denied the many, many allegations of drugging and sexually assaulting women that have been leveled against him.
In July of 2015, Bloom blasted Cosby and his team for attempting to "publicly vilify" Dickinson during an appearance on HuffPost Live:
I have a serious question for Bill Cosby's lawyers and spin doctors who have known since 2005 that he admitted under oath to … planning to drug women for sexual purposes. How dare they publicly vilify my client, Janice Dickinson, and other women like her? How do they look at themselves in the mirror every day? I really wonder how they do it. I know they get paid a lot of money to fight every day to keep women out of court to protect Bill Cosby, but really, is that why they went to law school? Is that what they were hoping to do with their lives? I just think it's very, very sad.
In addition to representing these women in their sexual assault-related cases, Bloom has also worked on behalf of Lindsay Lohan's father, Michael Lohan, in his legal fight to get his daughter into a rehab facility, as well as Good Morning America co-host Lara Spencer during her divorce last year.
Bloom is committed to taking on "David-and-Goliath battles on behalf of the vulnerable," according to her bio on her firm's website, including "suing the Boy Scouts of America on behalf of a girl who wanted to become a Scout, the Los Angeles Police Department on behalf of a use of force expert in the Rodney King beating trial, one of the largest churches in the world for a boy who was abused at a church summer camp, a powerful Fortune 500 company on behalf of a wheelchair-bound employee who had been harassed because of his disability, and many celebrities and prominent figures in sexual harassment cases, including a sitting Los Angeles judge."
The case of a woman who claims that two grown men raped her when she was just 13 years old would certainly qualify as one of those "David and Goliath" situations, if what she had to say is true. Based on Bloom's tracks record and her legacy, it's safe to believe that Jane Doe is in good hands.