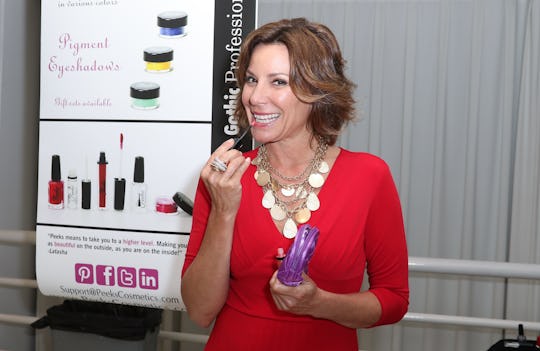 John Parra/Getty Images Entertainment/Getty Images
Who Has Luann De Lesseps Dated? The 'Real Housewives' Star Is Open About Her Relationships
Much has been made of Luann de Lesseps' dating life on The Real Housewives of New York, with many of the ladies being pretty critical of how much Luann has been dating in the wake of her divorce from the Count seven years ago. It's something that's come up a few times over the seasons, but it really blew up in the episode "December: Berkshires County." During a stay at Dorinda Medley's house in the Berkshires, Bethenny Frankel dredged up Luann's romantic history once again in an argument about what she perceived to be Luann's "hypocrisy." It came out a lot more like slut shaming, and to her credit Bethenny seemed a little taken aback by her own ferocity. Luann doesn't have any shame about enjoying her single life, and she's also had several serious relationships. So, who has Luann de Lesseps dated?
Luann and Count Alexandre de Lesseps were married for 16 years, and they've stayed close and remained friendly after their divorce. Luann is getting ready to get married again on New Years' of this year to her fiancé Thomas D'Agostino, but she's had a few relationships over the years that have been featured on RHONY. Aside from casual dates, Luann had a long relationship with Jacques Azoulay, a French businessman.
After meeting a party, Luann and Jacques dated for four years before parting because, in her words, they "wanted different things." Jacques wanted a family, which didn't end up happening for the couple, though they have remained friendly. That seems to be a common factor in Luann's relationships; she's mastered remaining friends with an ex.
After that, Luann started seeing a software developer from Denver named Sean Rooney, whom she met under unusual circumstances: they were introduced by Steve Harvey on his show. While Luann thought Rooney was "very charming," it didn't end up working out between the two. Luann dated casually after that, something she's been open about on the show, before meeting her fiance this year.
Things still seem a little prickly between Luann and Bethenny, with both of them being more than a little shady in their post-episode Bravo blogs. Luann makes no apologies for her dating decisions, and she shouldn't have to, but that doesn't prevent either of them from taking a few digs at each other. Luann answers Bethenny's shame-y comments with one of her own, calling Bethenny a hypocrite for claiming Luann dates married men because of some gossip about Bethenny herself, and Bethenny just adds to the heap with some more comments about just how many men Luann has dated.
No one would deny the women on RHONY have their faults, but who and how they choose to date shouldn't be something they're made to feel bad about.