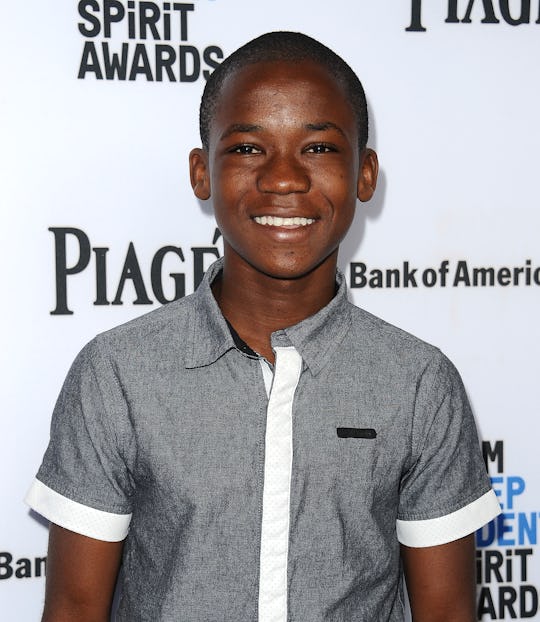 Jason LaVeris/FilmMagic/Getty Images
Who Is Abraham Attah? Why You Should Watch Out For The 'Beasts Of No Nation' Actor
Feb. 28 — otherwise known as Oscar night — is nearly upon us, and with it an entire new batch of presenters has just been announced. Joining the already stellar list of presenters, including Steve Carell, Star Wars' Daisy Ridley, and Louis CK, are young actors Michael B. Jordan from Creed and Abraham Attah from Beasts of No Nation. So who is Abraham Attah, you ask?
The teenage star of the Netflix original film comes from Accra, Ghana and was discovered in kind of an awesome way. He was ditching class to play soccer when he was spotted by the casting director and asked to read for one of the roles, according to Business Insider. (Which seems like a bad message to send kids, if you don't want them ditching class, right? Oh well.)
Beasts of No Nation (which debuted in 2015) was directed by Cary Fukunaga. The story, based on the 2005 novel by the same name written by Nigerian-American author Uzodinma Iweala, revolves around a young boy-turned-soldier named Agu who is living through civil war in an unnamed West African country. I don't want to spoil it for you because it's absolutely worth your time, but Attah, as the diminutive Abu trying his hardest to survive and retain a fraction of his humanity, is the movie's shining star.
Beasts premiered at the Venice Film Festival where Attah ended up also winning the prestigious and coveted Marcello Mastrioni Award, an award given out to recognize a breakthrough performance by an emerging actor. The movie co-stars Idris Elba and has been met with rave reviews, not to mention over three million Netflix views.
Attah is mesmerizing as Agu. It's his eyes, I think. And his size. Attah is fourteen years old but looks like he's about ten. Beyond that though, it's nearly impossible to imagine that Attah had zero acting experience before this. He's just so present, so soulful. Which could come from life experience, I suppose.
As director Fukunaga said in his press notes, "I knew I had to find a kid who had an edge to him, someone who had not necessarily led an easy life. He wasn't going to come from the 2% in Ghana. He was going to come from some level of the streets."
Which was exactly where casting director Harrison Nesbit found Attah. "We were playing football in front of a school, and a white man came and said we need some boys for a movie," Attah said during a press conference at the Venice Film Festival. "So we went and we auditioned at a TV station in Ghana, and I was cast."
The violence of the film, the horrors that Agu must suffer, didn't scare Attah during the filming. His co-star Idris Elba, on the other hand... he scared Attah. "I was scared because it was my first time shooting a movie," Attah told People, in a recent interview. "I was afraid of [Elba] at first because I see him to be someone big, and I'm like an ant in front of him."
Despite neither of the co-stars having been nominated for an Oscar (and presumably Attah getting over his sort-of-adorable fear of Elba), Attah must be incredibly excited about the big night on Feb. 28. And it looks as though his Cinderella story is not quite finished yet: After you're finished streaming Beasts of No Nation on Netflix, get ready to watch Attah star in The Modern Ocean alongside Anne Hathaway, Daniel Radcliffe and Keanu Reeves. All things considered, it seems that Abraham Attah is definitely the one to watch in 2016.