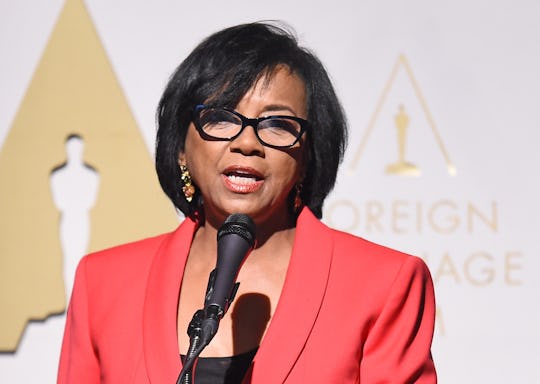 Who Is Academy President Cheryl Boone Isaacs? She's At The Center Of The Oscars Controversy
Anyone who's aware of the #OscarsSoWhite controversy has also probably heard about Academy of Motion Picture Arts and Sciences Cheryl Boone Isaacs and all the flack she's taking. But just who is Cheryl Boone Isaacs? While her identity as a black woman in an organization that lacks diversity in its membership has taken center stage, Isaacs boasts a long-spanning film background that is worth knowing about as well.
Saying that the Academy president is taking some heat for the lack of minority nominees would be a huge understatement. Not only have Jada Pinkett Smith and Spike Lee claimed they're boycotting the Oscars, but several celebrities haven't veiled their frustration with the organization. On Wednesday, Lupita Nyong'o Instagrammed that she is "disappointed" by the lack of the nominations' diversity:
The Awards should not dictate the terms of art in our modern society, but rather be a diverse reflection of the best of what our art has to offer today.
Though many are taking to social media to criticize the Academy, Selma actor David Oyelowo confronted Isaacs at a gala on Monday night, Vulture reported:
This institution doesn't reflect its president and it doesn't reflect this room. I am an Academy member and it doesn't reflect me, and it doesn't reflect this nation.
Though Us Weekly reported Tuesday that Isaacs released a statement saying she is "heartbroken and frustrated about the lack of inclusion," her gender and race has been brought up repeatedly since the nominations came out. While that is definitely relevant, what is known about the Academy's president aside from that?
For starters, Isaacs is the organization's 35th president and has held the role since July 2013. In August, she was elected for her third term as the organization's president, according to the Academy's website. Issacs has a long history with the Academy, also acting as a governor for the Public Relations branch for 23 years.
She held high-ranking positions before the Oscars. The Alliance of Women Film Journalists (AWFJ) mentioned that Isaacs was vice president for worldwide publicity at Paramount Pictures from 1984 to 1997 — where she had a hand in blockbusters like Forrest Gump and Braveheart. Following her tenure there, she served as president of theatrical marketing for New Line Cinema.
And some of Isaacs' positions and achievements occurred quite recently. In 1999, she founded CBI Enterprises Inc., a strategic marketing firm that consulted for films including The Artist, Precious and The King's Speech — all of which earned Oscars.
Though she has had an impressive career, the Academy president came from humble beginnings. Growing up in a middle class family in Springfield, Massachusetts, Black Past reported that Isaacs graduated from Whittier College in 1971 with a degree in political science. She currently lives in Los Angeles with her husband, movie producer Stanley Isaacs, and son.
The Academy president will hopefully follow through on her promise to diversify the Academy's mostly-white members. Though it's important to note that Hollywood's diversity problem goes much deeper than the Oscars and Isaacs.
Image: Robyn Beck/AFP/Getty Images