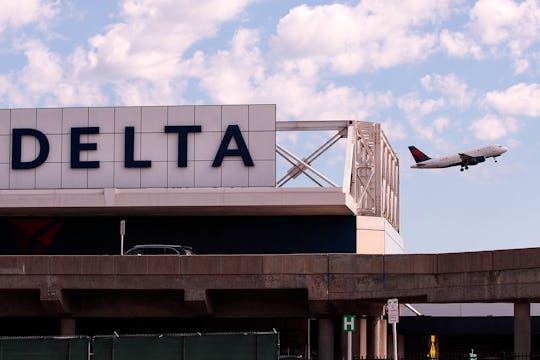 Drew Angerer/Getty Images News/Getty Images
Who Is Adam Saleh? His Delta Flight Video Has Gone Viral
Delta Air Lines dealt with a troubling situation this morning; the airline has been struggling with reports of Islamaphobia in recent months. While Delta has been attempting to do some damage control, one YouTube star has now brought the issue to the attention of the internet. Adam Saleh shared his experience of allegedly being asked to leave a flight for speaking Arabic with his subscribers, and people were not impressed. Who is Adam Saleh?
Update: On Wednesday evening, Delta spokespersons issued a second statement to further clarify the details surrounding the incident: "Upon landing the crew was debriefed and multiple passenger statements collected. Based on the information collected to date, it appears the customers who were removed sought to disrupt the cabin with provocative behavior, including shouting. This type of conduct is not welcome on any Delta flight. While one, according to media reports, is a known prankster who was video recorded and encouraged by his traveling companion, what is paramount to Delta is the safety and comfort of our passengers and employees. It is clear these individuals sought to violate that priority."
Saleh has made a name for himself, not to mention netting 1.6 million subscribers on YouTube, for his prank videos and stories of his life as a Muslim. He describes himself as a "professional idiot," a vlogger who spends his days creating elaborate pranks like the time he allegedly smuggled himself onto a TigerAir flight inside a suitcase (though some critics remain skeptical that he pulled that one off). Saleh told CBS News that he was on board a Delta flight, speaking to his mom on the phone in Arabic, when he claimed a woman sitting in front of him turned around to ask him to speak English. He claimed that he reminded her that he is free to speak whatever language he chose, and then Saleh said her husband responded by getting out of his seat to scream at him. The altercation, according to Saleh, resulted in Saleh and his traveling companion being escorted off the flight before it took off.
Delta did not respond to Romper's additional request for comment.
Not only did Saleh claim this other passenger was racist, but he accused some of the other passengers of being racist as well. Around 20 people were apparently made to feel "uncomfortable" by hearing him speak Arabic, while a flight attendant asked him to lower his voice while talking to his mother on the phone. The pilot, who Saleh said seemed "ashamed and embarrassed" to be in such a position, reportedly approached him and his friend and asked them to leave the plane. In the video Saleh shared on his Twitter account (which has been shared over 240,000 times), he said that:
[People] were screaming at us like we were terrorists.
Delta released a statement about the incident on Wednesday:
We take all allegations of discrimination seriously and we are gathering all of the facts before jumping to any conclusion. Our culture requires treating everyone with respect. Furthermore, Delta people are trained to and frequently handle conflicts between passengers.
Maintaining a safe, comfortable and orderly onboard environment is paramount for every flight and requires the cooperation of all of our customers in conjunction with adherence to directions from our crew members. This is a Delta policy and is required by U.S. regulations as well as others governing aviation worldwide.
Two customers were removed from Delta flight 1 departing London-Heathrow today after a disturbance in the cabin resulted in more than 20 customers expressing their discomfort.
We have spoken with the customers who were removed; they were rebooked on another flight. Plans are in place to immediately speak with our crew and other passengers when the flight lands this afternoon. We will provide an update once we have more information.
Unfortunately, the alleged incident with Saleh isn't the first time Delta Air Lines employees have been accused of Islamaphobia. In July, a Muslim couple was reportedly asked to leave a flight from Paris returning to Cincinnati-Northern Kentucky International Airport after a flight attendant allegedly took umbrage with the woman wearing a headscarf. She was also uncomfortable with the fact that the man was sweating, apparently. The couple were returning from a 10-year anniversary trip to Europe, and were issued a full refund for their flight.
Since Saleh's video went viral, a new Boycott Delta hashtag has been trending on Twitter. It should be noted that Saleh has been suspected of posting fake anti-Muslim videos in the past; in 2014, he shared what he called a "racial profiling experiment" that the Smoking Gun website called out as an "obvious hoax" (Saleh then added a video description: "This video is a Dramatization of previous events that occurred with us in our tradition clothing while filming in NYC.") Adam Saleh did not immediately respond to Romper's request for comment about the alleged incident.
Whether this particular incident was staged or serious remains to be seen, of course. Either way, Islamaphobia remains a serious issue in 2016, and that is simply unacceptable.