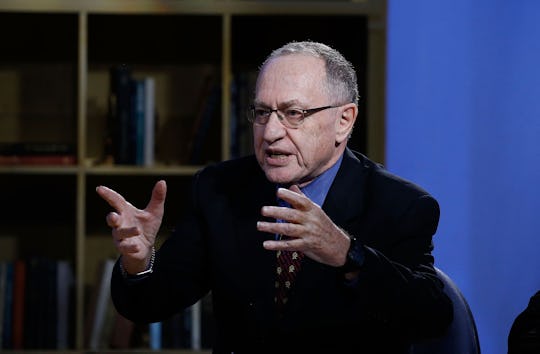 John Lamparski/Getty Images for Hulu
Who Is Alan Dershowitz? The O.J. Simpson Advisor Makes A Splashy Appearance In 'American Crime Story'
The People v. O.J. Simpson: American Crime Story is well underway and the internet is dying to get to know the characters behind the real life story. Simpson's defense team in particular seems to be coming into sharp focus because of the new hit FX series, whether it's Robert Kardashian (played by David Schwimmer and made extra famous by his three daughters and their Instagram selfies), Robert Shapiro (played by John Travolta and what one can only assume are prosthetic eyebrows) or Alan Dershowitz (played by Evan Handler, also known as Charlotte's second husband on Sex And The City). Wait, hold the phone. Who the heck is Alan Dershowitz?
Dershowitz served as an appellate advisor to the Simpson defense team. As with the rest of Simpson's lawyers, he was already a well-known entity with many high-profile cases under his belt. One of his most famous pre-O.J. cases was that of Claus Von Bulow, accused of poisoning his wife (heiress Martha "Sunny" Von Bulow) for her vast fortune, and charged with attempted murder in 1982. Dershowitz was Von Bulow's defense lawyer at his second trial, where he was able to get the conviction overturned and Von Bulow acquitted in a retrial. Dershowitz wrote a book about the case entitled, Reversal Of Fortune: Inside The Von Bulow Case (1985) which was made into a movie in 1990. So clearly being featured in a television series wouldn't really feel like that big a deal to Dershowitz — he is famous even amongst famous lawyers.
Born in 1938, Dershowitz is a prominent lawyer, author, and political commentator. He was raised in a strictly Orthodox Jewish household in Brooklyn, New York. A stringent supporter of free speech and civil rights, Dershowitz has defended some remarkably famous clients in his five decades long career, from Leona Helmsley and Mike Tyson, to WikiLeaks Julian Assange. Then a little over a decade ago he came out of semi-retirement to defend his friend Jeffrey Epstein. Epstein, a billionaire investor, was accused of soliciting sexual massage from under aged girls.
Dershowitz has been dealing with backlash for allegedly employing a "scorched earth" policy when questioning the reportedly underaged victims in court, vilifying them and allegedly brokering a deal for Epstein. When speaking at John Hopkins' University in November 2015, Dershowitz was interrupted during his speech defending Israel by protestors bearing signs that read, "You Are Rape Culture."
The O.J. Simpson case must feel like a lifetime ago to Dershowitz. He himself has gone on record about the case, telling Business Insider earlier in February, "It was a highly publicized trial that established no real important legal principals." And while Dershowitz has gone on to bigger cases and more difficult fish to fry, he must have had a crystal ball on him when he said this to Frontline on PBS back in 2005:
I think after the O.J. Simpson case, the American media realized it was on to something Americans love: trials of celebrities.
Just over a decade later here we are, breathlessly awaiting the next episode of The People v. O.J. Simpson: American Crime Story. Just as Dershowitz predicted. Maybe add "fortune teller" to that list of accomplishments.