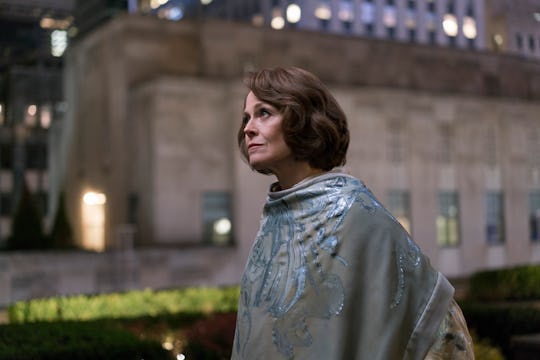 Sarah Shatz/Netflix
Alexandra From 'The Defenders' Isn't Your Typical Villain
This year has been filled with a lot of amazing superhero movies, but now it's time for the small screen to get some of the action. Continuing Netflix's long line of popular Marvel series, the streaming site is now bringing fans The Defenders. The new series brings together the likes of Daredevil/Matt Murdock, Jessica Jones, Luke Cage, and the Iron Fist/Danny Rand. Though there are four superheroes in this series, there's only one main villain and her name is Alexandra. So who is Alexandra in The Defenders? Her background is a bit of a mystery.
Played by Oscar-nominated actress Sigourney Weaver, Alexandra isn't really a villain, but rather an adversary to New York City's heroes. At least, that's how Weaver described her Defenders character to Entertainment Weekly. But what exactly is the difference between being an adversary and a villain? According to The Defenders showrunner, Marco Ramirez, it's the fact that, in Alexandra's eyes, she's simply doing what's necessary to protect the world.
"Above all else, she cares about living," he told the outlet, adding:
She's about self-preservation, and self-preservation at all costs... She has the long game in mind, and she isn't thinking about this chess game, she's thinking about six chess games in the future. As such, I think she's seen a lot of beauty in humanity and in the world, but there are certain things that to her are expendable, and that's a really dangerous worldview.
Alexandra is currently the leader of The Hand, a mysterious organization that was first mentioned in the second season of Daredevil. The Hand is an old group that the Iron Fist is meant to stop, however, it's clear he's going to need some help with that, which is where the Defenders come in.
Additionally, as was hinted at in the Season 2 finale of Daredevil, Elektra, Matt's former love interest and friend, has become a weapon for The Hand. This will obviously cause a bit of trouble for Matt, who believed her to be dead.
Based on the trailer for the new series, it's clear that while Alexandra may be looking out for what she thinks is best for the world as a whole, she's willing to sacrifice the city of New York, putting her at odds with our favorite vigilantes.
"There are things [Alexandra] cares about deeply, but she probably doesn't care about the same things the Defenders care about, so that puts them on a collision course," she told EW during the same interview.
Though it's four against one, it'll probably take everything the Defenders have in order to beat Alexandra at her own game. Thankfully, fans won't have to wait much longer to see how the battle for New York plays out.