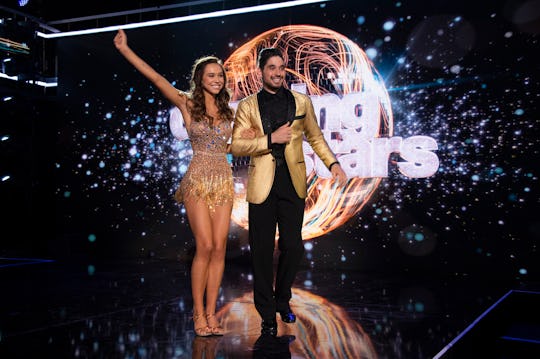 Eric McCandless/ABC
Alexis Ren's Boyfriend Is Enamored With The 'DWTS' Contestant & It's Adorable
Alexis Ren has gotten a lot of attention for her efforts on Dancing With the Stars, even if she's not as well known as some of the other contestants. For those who may not know, Ren has a *very* strong social media presence and she's also a model. But since there's a lot that DWTS fans still don't know about her, you might be wondering the important things, like who is Alexis Ren dating?
The DWTS contestant is open on social media about all facets of her life, so it's only natural that her current boyfriend is also featured on her Instagram. He goes by the name of Sky Bear and he has his own social media world that involves a lot of poetry in place of Instagram captions as well as plenty of photos of his girlfriend.
Under one photo, he wrote a long poem for Alexis that said,
Have I told you that I love you, that I see your mother in your eyes. Have I told you that I love you, for I wish it was a lie and yet because I love you I would happily burn in desires very fires. Have I told you that I love you, the way you giggle in my arms, the way squirm, the way you pout, the way you kill me with your charm.
Obviously, they're very much in love and they've been together since at least April, when Sky posted the photo and poem.
Sky isn't a model or professional social media influencer like Alexis, but he does have a lot of photography on his Instagram profile. By trade, he is a "peak performance enthusiast, business owner, philanthropist, mixed martial artist" and "yoga practitioner." At least, according to his Instagram bio. He also runs his own business in Hawaii. According to the official website for his paddle boarding company, Kauai Adventure Fitness, Sky spent most of his childhood surfing competitively and eventually opened the business.
He later founded the non-profit organization Na Keiki o Halele`a with the goal of giving kids the tools to live healthy lifestyles through coaching and encouragement. Together with Alexis and their mutual friend, he also helped create Transpire, a yoga and meditation retreat. He recently posted about it on Instagram and described an upcoming retreat as a time to focus on "the science of peak performance, the potential of human connection, and the practices and tools for lasting well-being." Sky sounds like the most laid back person ever, so I'm all for this relationship.
Alexis hasn't said much about her relationship on DWTS, but she also isn't hiding it, as there are a couple of photos of Sky on her Instagram too. She also featured him in one of her travel vlogs on her official YouTube channel, so they're pretty legit. You know, in case you needed further confirmation after all of the PDA-heavy posts on Sky's Instagram. Before Sky, Alexis publicly dated model Jay Alvarrez and things ended in a messy breakup all over social media.
Luckily, this dancing queen appears to be in a much better place with her relationship now. Alexis said in one of her recent vlogs that she's the happiest she's been in a long time. I wouldn't be surprised if some of that positivity is what helps her continue on this season. She clearly has a lot of support at home.