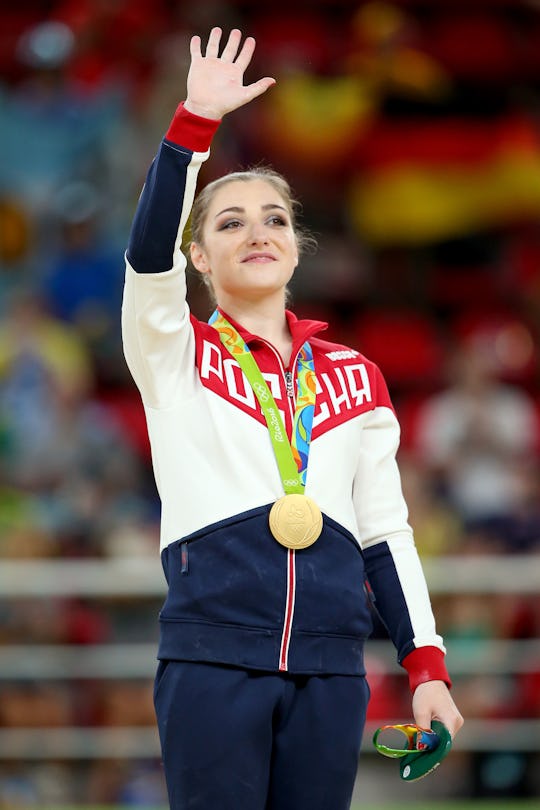 Alex Livesey/Getty Images Sport/Getty Images
Who Is Aliya Mustafina? She's The "Queen" Of The Uneven Bars
Just yesterday, Aliya Mustafina won the gold medal in the uneven bars final in Rio's summer Olympics. Although high-profile gymnasts such as Team USA's Simone Biles have huge fan followings because of their talent, Mustafina certainly has a dedicated fan base. But who is Aliya Mustafina?
Born on Sept. 30, 1994 in Russia, Athletics ran in Mustafina's family: her father was also an Olympic athlete: he won a bronze medal for wrestling in 1976. Her sister Nailya, who is two years younger, is also a gymnast and competed with Russia's junior team.
Mustafina has a long and accomplished gymnastics career. She began competing professionally in 2010 at the World Championships in The Netherlands, where she made history by qualifying for every event final, and won five medals, more than any other artistic gymnast. She won the all-around competition in both the 2012 and 2013 Russian National Championships. She had a huge achievement at the 2013 World Artistic Gymnastics Championships, winning a World medal on every event.
Now in Rio, Mustafina is giving Team USA a run for their money. She helped the Russian team win a silver medal, and placed third in the Individual All-Around Final behind rivals Simone Biles and Alexandra Raisman. And ultimately, no one could touch Mustafina on the uneven bars, where she defended her 2012 championship.
Andy Thornton of Universal Sports praised Mustafina for her great performances that capture "the very same artistry, difficulty, and competitive composure that made her Soviet predecessors so beloved and revered."
She's so accomplished in the sport she even has a difficult gymnastics skill named after her: the "Mustafina" is a dismount off the high bar consisting of two tucked back flips and 1.5 twists.
Mustafina has shown grace outside of her performances, too. "The most important thing in the Olympic Games is to help the team," Mustafina told Championat, in an interview translated by Rewriting Russian Gymnastics. She's kindly comforted her competitors and teammates when they were upset at not performing well.
She's also known for being a diva. "The girl is very talented, but with a difficult character," Mustafina's former coach Alexander Alexandrov told a Russian newspaper, in an interview translated by International Gymnast Magazine. "However, you don't find much complacency among champions." Still, her fans adore her — so much they've given her the title 'Queen Aliya.'
Unfortunately, she's also faced her share of injuries. In 2011, she tore her ACL after landing on a vault during the European Championships, and in May of 2014, she injured her ankle at the European Women's Artistic Gymnastics Championship, leaving her only able to compete in two events. She also had to withdraw from the World Gymnastics Championships because of a back injury.
"When you constantly put up with pain, it is exhausting and you get tired of it," Mustafina told Russian site Sport Express, in an interview translated by Rewriting Russian Gymnastics. "Then you come to the gym in the morning and always experience pain, pain, and you must force yourself to work through this pain."
Mustafina's resilience, athleticism, and long list of accomplishments all make it really hard not to admire her.