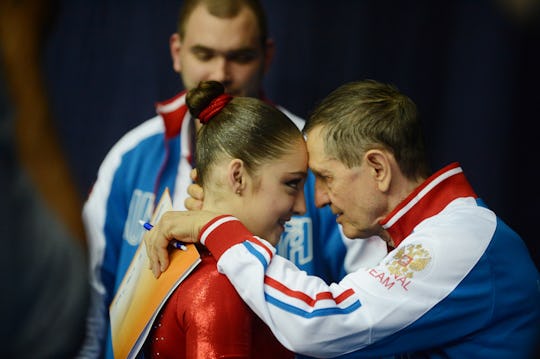 NATALIA KOLESNIKOVA/AFP/Getty Images
Who Is Aliya Mustafina's Coach? She Made A Big Change After London
Russian gymnast Aliya Mustafina should be incredibly proud of herself today. She managed to give not only former competitor Aly Raisman a run for her money but even (for a very brief moment in time during the individual all-around competition) Simone Biles. Which, considering Biles' reputation as being virtually unbeatable, is truly saying something. While she was doing the actual work herself, it looks as though Aliya Mustafina's new coach has brought a little something to the table as well.
Sergei Starkin comes from a family that has dedicated their lives to training Russian gymnasts. His father, Valeri Starkin, is a well known coach and trainer at the Burtasy School for Gymnastics in Penza, Russia. Sergei Starkin made a name for himself in the competitive world of Russian gymnastics by training World Champion Deniz Ablyazin.
In 2014 he was asked to train another champion: Aliya Mustafina. While it is unprecedented for a Russian coach to train two champions, Starkin accepted the challenge to train Mustafina alongside Ablyazin anyway. Starkin told Sports Express in an interview that he "thought about Mustafina's request for two or three days" before finally accepting. So what made him finally accept? According to the interview with Sports Express (and full disclosure here, it was translated from Russian):
A girl who has done so much for her country, the best gymnast in Russia, cannot be left without a coach one and a half years before the Olympic Games. You can't leave her without support! She had begun to realise that, unfortunately, without a coach, her results were beginning to fail. She wants to overcome this crisis. She came to me and said that now she feels I'm the only coach for her, she is ready to listen to me. She understands that to return to the previous level, she must change her preparation a great deal.
So what were Sergei Starkin's training sessions like with Mustafina to whip her into shape for the 2016 Olympics in Rio?
Just kidding.
However Starkin trained Mustafina, he clearly did something right. She won a bronze in the women's individual all-around behind American gymnasts Simone Biles and Aly Raisman, and brought home the silver medal with her team in the all-around team competition a few days earlier. And she didn't just do well, she was a true team player the entire time.
While she fared a little better in the 2012 London Olympics with four medals (one silver for team all-around, two bronze in the individual all-around and floor final and gold in the uneven bars final), she has had to overcome some difficulties to maintain her pace. In March, Mustafina was hospitalized for severe back pain. She rallied in April and went back to training for the Rio Olympics.
The girl deserves some serious kudos. She's made it to the podium again. Good on her.