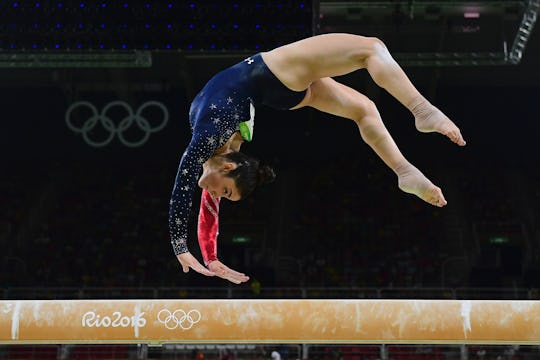 EMMANUEL DUNAND/AFP/Getty Images
Who Is Aly Raisman's Brother? Brett Is The Latest Family Member To Steal The Spotlight
Sometimes, the families behind Olympic athletes can be almost as interesting as the competitors themselves. At the 2012 Summer Olympics in London, the world was introduced to gymnast Aly Raisman, and her parents, Lynn and Rick. Four years later, 22-year-old "Grandma" is once again Team USA's captain, and this time around, fans might be wondering who Aly Raisman's brother, Brett, is.
During the 2012 Olympics, Lynn and Rick stole the show when cameras caught the pair squirming, wincing, and jumping in their seats while watching their daughter's routine. They may have looked silly to some people, but when you consider the fact that they're watching their baby literally fly through the air while the entire planet is judging her, it was totally relatable. Fans also got a peek into the Raisman family's life in June when they were featured on Lifetime's Gold Medal Families, a reality series that followed various athletes in their quest to qualify for the 2016 Olympics in Rio.
During Sunday's events, mom and dad were back at it, performing their own patented seated gymnastics while Aly competed, and NBC was prepared with a camera trained on the family. This time, Aly's little brother, Brett, can be spotted at the end of the performance, looking positively pumped for his sister.
Only Brett's not so little anymore, and people are starting to notice him. A native of Needham, Massachusetts, Brett is currently a junior at Olin Business School at Washington University in St. Louis, according to his LinkedIn profile. Brett majors in entrepreneurship and marketing, and minors in sports business. He also plays hockey, and he's a member of the Beta-Sigma chapter of Kappa Sigma Fraternity, and represents them on the Standards Board of the school's Interfraternity Council. And yet with all that going on, he still finds the time to jet set around the world to cheer for his big sister.
And fans are all about it, too. Brett just joined Instagram on Monday, and within a day, he racked up more than 8,000 followers and as many likes on his single post: a snapshot of a TV screen showing his mother, with his cheek visible in the corner of the screen. "I'll try not to let the fame go to my head," he captioned the post. He may be kidding, but his overnight fandom is no joke. Move over, Jordan Rodgers, there's a new brother of a famous athlete in town.