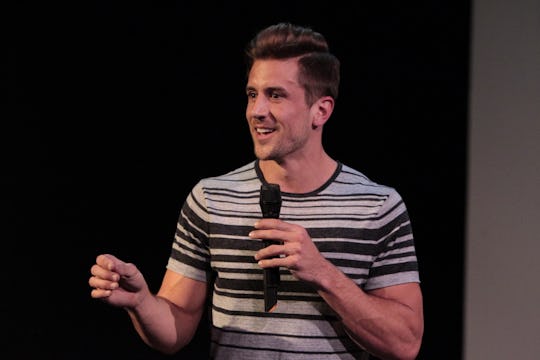 ABC/Rick Rowell
What Is Jordan Rodgers' Job After 'The Bachelorette'? He Just Landed A New TV Gig
Season 12 of The Bachelorette isn't even over yet, but already, Jordan Rodgers is looking at more screen time. Whether or not he gets that final rose from JoJo, he'll be returning to TV again soon. But what is Jordan Rodgers' job after The Bachelorette? Not surprisingly, he'll be dealing with sports again, but not with the NFL this time. Instead, Rodgers will return to TV with SEC Network, ESPN's sister station for all things sports. While what Jordan Rodgers' job will be with the network is still unclear, you have to assume that it will be dealing heavily with using his charm and good looks to talk sports. Which isn't a bad gig for someone who will be both a former NFL player and former reality love show contestant.
In a couple of the past challenges on The Bachelorette, Rodgers was able to show off his sports skills and even post-game interview stylings with JoJo by his side. So maybe SEC Network liked what they saw in the former pro football player and dropped him a line to accept a new gig on TV. Also to no one's surprise, former house bad guy Chad Johnson had something to say of Jordan Rodgers' new upcoming gig.
It certainly wouldn't be the first time something like this has happened, though. Former Bachelorette couple Trista and Ryan went on to get their own HGTV show, Rocky Mountain Reno, proving that yes, reality TV does pave the way for new opportunities, even if that wasn't the immediate goal of the contestants. And The Bachelorette's own Jillian Harris went on to host Love It Or List It, Too and then, Extreme Makeover.
Was this Jordan Rodgers' goal all along on The Bachelorette? To be fair, a guy's got to eat, and with a short-lived NFL career behind him and what I can only imagine is plenty of football and otherwise sports knowledge inside of him, an opportunity to work with SEC Network is one he would have been remiss to turn down.
We still have a few weeks left of The Bachelorette to find out who gets the final rose from JoJo, and even if Jordan Rodgers starts a new TV gig, he can still be the one to win in the end. You know, to help her put bread, bacon, and various other meats on the table. Then again, if Rodgers ends up being shafted in the end on The Bachelorette, we'll just have to look forward to seeing him on SEC Network as an announcer or commentator.
It's hard to imagine Jordan Rodgers doing anything other than competing for JoJo's love just yet, since that's what we've seen of him for the past six weeks or so on The Bachelorette, but there is life after the rose ceremony. And apparently Rodgers has seized the opportunity that came from his time with JoJo.