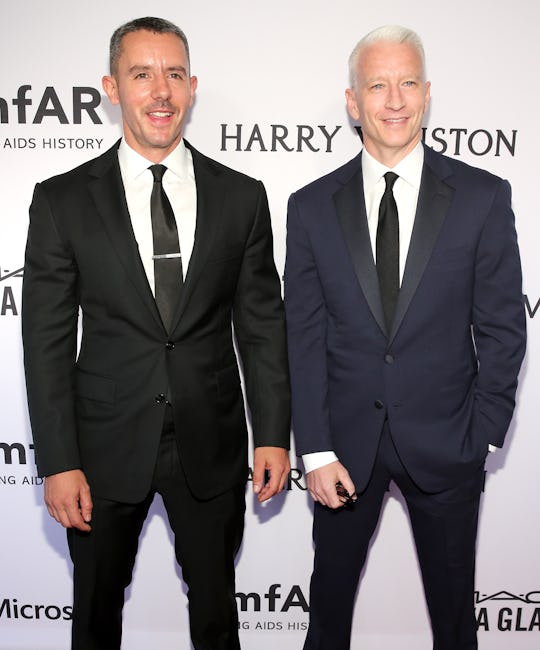 Neilson Barnard/Getty Images Entertainment/Getty Images
Who Is Anderson Cooper Dating? Benjamin Maisani Has Been Part Of His Life For Years
I feel like every grown woman of a certain age has to go through her "Anderson Cooper" phase. For me, that phase has lasted for a disproportionately long time. If it were to be measured properly, I would say my Anderson Cooper crush has lasted longer than my "Stephen Colbert" period and equal to my "Louis C.K." longing. Unfortunately, my Anderson Cooper phase will prove to be as fruitless as one might expect; Cooper is dating hunky nightclub owner Benjamin Maisani, and they seem adorably well suited for each other. Don't feel bad for me, though; he was just my back-up for Louis C.K..
Cooper and Maisani, who owns two nightclubs in the East Village in New York (Eastern Bloc and Bedlam), have kept their long term romance as relatively private as possible. The couple have reportedly been an item since at least 2009, long before CNN journalist Cooper came out as gay in 2012. According to The Huffington Post, Cooper came out in an email to writer Andrew Sullivan in July of 2012 after months of serious media speculation, noting,
I have always been very open and honest about this part of my life with my friends, my family, and my colleagues. In a perfect world, I don't think it's anyone else's business, but I do think there is value in standing up and being counted. I'm not an activist, but I am a human being and I don't give that up by being a journalist.
Neither Maisani nor Cooper have spent too much time speaking publicly about their relationship, however, the French-born Maisani did speak to French Morning in 2014 about the public speculation that goes along with dating a world famous journalist, saying,
I understand that it interests people, but it doesn't interest me. Like most people, I never really thought about it, and I never wanted to be a celebrity. I knew I'd have to be careful right from the start before it had a chance to get out of hand.
The couple live together in Cooper's converted fire station townhouse, which sounds like the most wonderful thing ever, and like to lead a low-key lifestyle. They travel with friends like Kelly Ripa, Sarah Jessica Parker, and both women's husbands; work out together at Chelsea's David Barton gym; and can often be spotted wandering the streets of New York looking super serious and stuff:
Maisani and Cooper, who is set to co-moderate Sunday's presidential debate between Hillary Clinton and Donald Trump, were recently featured in Architectural Digest at their beautiful vacation home in Trancoso, Brasil with their adoring dogs in tow. Just seeing the two of them, in their low-key chic home in the tropics, is enough to do this girl's heart good. If someone was going to take Cooper away from me, I guess Benjamin Maisani is as good a man as any.