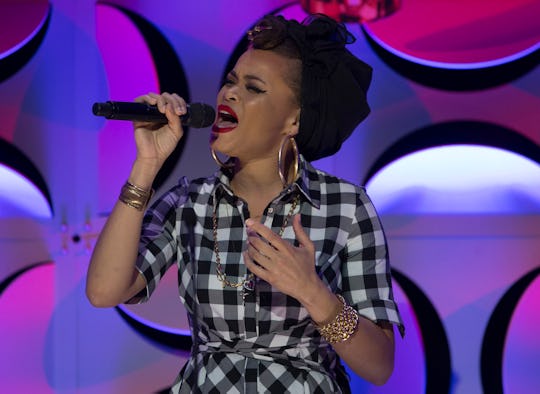 Mitchell Leff/Getty Images for the USOC
Who Is Andra Day? The New Rising Star Of R&B Is Seriously Talented
Having Stevie Wonder as a fan can't hurt a girl's career. Six years ago Wonder's (now ex) wife Kai Millard Morris caught a video of Andra Day singing in front of a strip mall on YouTube. Morris passed her info along to Wonder and voila: A star was in the making. But who exactly is Andra Day?
Cassandra Monique "Andra" Batie is, obviously, a singer and a California native, born and raised in San Diego. She counts Nina Simone and Billie Holliday as two of her greatest inspirations. And while you can certainly hear the same soulful, wounded-soul smoky vibe in her voice that you might have heard in theirs, she definitely brings something new to the table: a unique talent Stevie Wonder felt the music world would want to hear. "I was so nervous," Day told the Associated Press in an interview this month, speaking of her first meeting with the iconic musician. "I kept saying to myself that he was just a regular person. But in the same breath I was saying, 'He's a legend'.''
Six years (and thousands of hours of hard work) later, it looks as though the 31-year-old Day has finally arrived. With two Grammy nominations this year for Best R&B Album and Best R&B Performance (for her inspirational single "Rise Up") not to mention enthusiastic kudos from people in the know, she's already a star.
So far, Day seems to have hit it big, and she isn't looking back. Katie Presley, music reviewer for NPR, had this to say about Day's soulful sound:
She's got Eartha Kitt's unflappable confidence, Amy Winehouse's effortless grasp of classic jazz, Billie Holliday's access to raw emotion and Adele's range and pop sensibility.
Rolling Stone too included Day in its "10 New Artists You Need To Know" list back in July of 2015, saying she sounded like "one in the morning at your favorite cabaret." Swoon, right? It gets better: Guess who volunteered to direct Day's first music video for the single "Forever Mine" after catching her at the Sundance Film Festival? None other than Spike Lee.
Day has also covered fellow artists, including channeling her inner badass with this brilliant version of Eminem's "Lose Yourself." Day's amazing covers helped bring her to the attention of Warner Bros. Records and in the summer of 2015 Warner Bros. helped the artist producte her debut album, "Cheers To The Fall." It's been a whirlwind since then, with Day even singing at the first family's Christmas tree lighting this past December.
With her Rockabilly style, her confidence and her over-the-top talent, I think it's fair to say we're going to see great things from Andra Day. While we won't see her performing at the Grammys, with her unique sense of style I'm sure she'll be easy to spot — whether she wins or not.