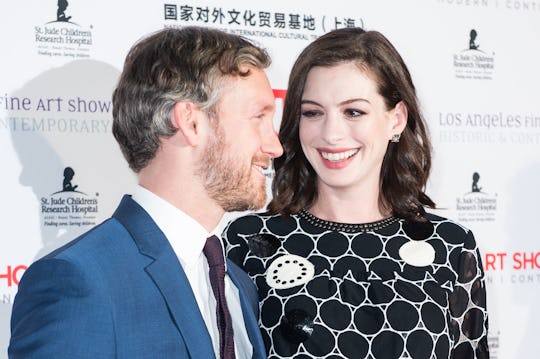 Emma McIntyre/Getty Images Entertainment/Getty Images
Who Is Anne Hathaway's Husband? The Couple Just Welcomed Their First Child
Princess Diaries' actress Anne Hathaway has finally given birth to her first baby and fans everywhere are delighted. The actress and her husband welcomed baby boy Johnathan Rosebanks Shulman on Thursday. While the world in general is pretty familiar with Hathaway's megawatt smile, many people are wondering where exactly they've seen that husband of hers before. So who is Anne Hathaway's husband (and no, it's not Ryan Gosling, even though I know what you're thinking, he totally looks like him)?
Anne Hathaway and her husband, Adam Shulman, have been together since 2008 and married since 2012. Shulman is an actor/jewelry designer and is the co-founder of the jewelry design firm, James Banks Design. Shulman is also an actor who most recently co-starred in Ricki and The Flash with Meryl Streep. While some might find it difficult to work in the same industry as their spouse (particularly since Hathaway is a majorly successful, Oscar-winning movie star), this couple seems to make it work. The trick very well could be that the two prefer a low-key lifestyle living in New York City.
"We have house parties and dinner parties and just hang out," Hathaway told People in 2011 when the two were engaged. "I'm so delighted by my boyfriend. He's all the things you want a partner to be. I so find joy in his presence."
Shulman is known for his charitable good deeds. In 2013 he and his design partner Heidi Nasher Fink created unique, handcrafted jewelry for the charitable organization World of Children, with 100 percent of the proceeds going to the foundation. Clearly, Hathaway has managed to find a husband who is not only creative and adorable, but has a good heart. Clearly, he is a keeper.
And Hathaway certainly seems to agree. She spoke to People in 2015 about her marriage to Shulman, saying,
We both talked about it beforehand, and how it wasn't going to change anything, but something shifts. I didn't realize that I was keeping a part of myself protected, and it's kind of all on the line now. I'm his and he's mine.
Now it looks like baby will make three.
Johnathan Rosebanks Shulman has been born into a lovely family. We all remember this exuberant picture of a very pregnant, very blissful Hathaway on New Years Day, and the message she shared with her followers:
The actress captioned the photo,
Happy 2016 to my beautiful Instafriends! So, posting a bikini pic is a little out of character for me, but just now while I was at the beach I noticed I was being photographed. I figure if this kind of photo is going to be out in the world it should at least be an image that makes me happy (and be one that was taken with my consent. And with a filter :) Wishing you love, light and blessings for the year ahead!
Anyone who wants to spread that kind of love to strangers deserves all the best. Congratulations to the new parents!